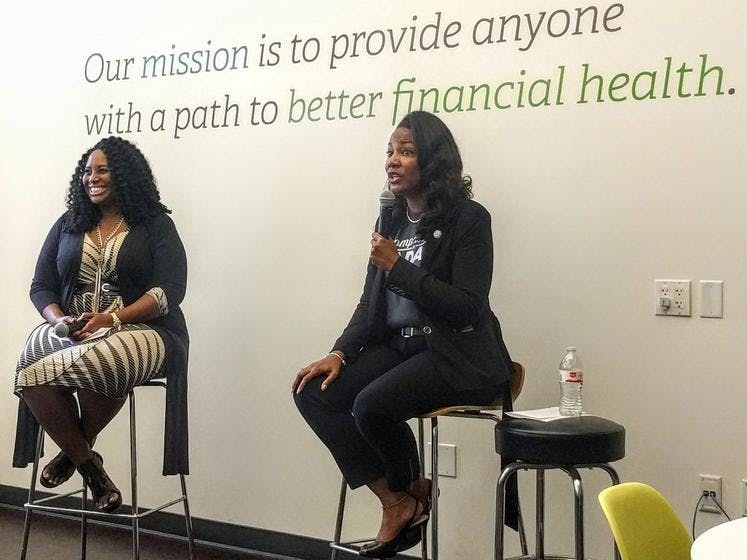 We have been honored to partner with the office of the Treasurer in St. Louis, MO, on their guide to alternatives to payday loans. This guide, which every payday lender in St. Louis is required to display in their stores, offers safer options to borrowers as well as information on how to tackle financial instability at its root causes.
Treasurer Tishaura Jones herself stopped by the office to share her insights as an elected official working to end deceptive payday lending practices. We continue to be inspired by her focus on increasing financial inclusion in St. Louis and the nation as a whole.
Below are excerpts from her discussion.
Who is a city treasurer and what does she do?
"The Treasurer of the city of St. louis is probably the most unique elected official position that you'll ever encounter -- and not just because I'm sitting here with a "compassion is badass" t-shirt on!
I am responsible for the city's investments, our cash management, and printing payroll checks -- actually stubs because I moved all city employees to direct deposit. But I'm also the city's parking supervisor…
When I was elected in 2012, I committed to using my power for good and not evil. One of the things that I've done is focus in on financial empowerment -- because I discovered that ⅓ of African Americans in the St. Louis area were unbanked or underbanked. So I made it my mission to decrease that number, but also to focus in on what more we could do in financial empowerment."
Tell us about the investments you make on behalf of the city...
"When I took office, we were only investing $250 million of our city's reserves, and only earning 20 basis points on our investments. At last check we are earning 120 basis points on our investments, and investing $400M dollars.
The first investment we made was in the children of St. Louis. Research from Washington University in St. Louis shows that children with more than $500 saved are 3 times more likely to go to college. So we set up a universal savings program similar to San Francisco -- in fact we got the idea from San Francisco's Treasurer Jose Cisneros, who's a good friend of mine -- in which every kindergartner entering public schools is given a savings account seeded with $50. Then we raise money privately for a matching incentive program, which matches up to the first $100 saved. We also offer up to $50 for perfect or near-perfect school attendance, and parents can earn up to $50 throughout the year for their children by participating in financial education courses -- right on their smartphone. The program is funded by parking tickets and fines, and the accounts are held at a local credit union. We have more than 10,000 kids in the program -- and we expect another 3,000 by end of year.
I also opened an office of financial empowerment in City Hall -- the first of its kind in the country. We have a classroom that seats 25 and a computer lab, because many of our community members hadn't ever seen their credit report before, and we wanted to change that. We also have space for 1:1 counseling, because we know financial conversations are important and sensitive.
We've found that families are starting to clear up their credit; we had a family buy their first home as a result, and many are opening up new savings accounts for themselves or their families. We also partner with banks and credit unions to deliver financial literacy classes."
Talk to us about your experience with predatory lending practices.
"Payday lending is unchecked and unfettered in Missouri. We have more payday lenders than we have Walmarts, Starbucks, and McDonalds combined in Missouri. Let that sink in.
Legislation hasn't kept up with the pace of payday lending in Missouri. I'm a former state representative, and I've tried multiple times to pass laws and initiative positions at the state level, but the payday lending lobby has shut us down at every turn. So I've said, 'OK - we're not going to deal with you on the legislative level, we're just going to steal away your customers with something better'.
So my first thought when I heard about LendUp was: 'what's the catch?' This model seems too good to be true. With LendUp, people can decrease their rates over time, they can take financial education courses that help them make better choices with their money in the long run, and it's all online. So once I was debriefed on the company and got to know all of you, I was happy to know there is no catch.
Once I learned more about LendUp's model, I was like -- how do we get this information out to our community? Since payday lending is running rampant in St. Louis and in Missouri -- how do we get more people involved, and let them know this is an option for them? I'm all about 2 things: saving people money, and making sure that they have the information to make informed decisions about their money."
As an elected official, what's your conversation with colleagues on fintech, and what should we do more or less of? How do we work together with elected officials to create more impact?
"There are problems inherent in our government that tech can help solve. For example, in St. Louis we've had the same accounting system for the last 40 years. It keeps us from offering different and new benefits to our employees because we'll literally break the system if we make changes such as adding additional deductions. Tech has been very helpful for us -- for example, with our parking system. When I started, we only used coin meters and only took cash. That was money walking out the door.
Now we have tons of data and are partnering with tech companies to help us make policy decisions. When it comes to making policy -- fintech and tech in general has been instrumental in showing us how to make our city halls more efficient and effective, and serve the people who elected us. Because that's why I'm here: I'm here to serve. I try to use tech as much as possible to increase our capacity to serve the people who elected me."
What advice do you have for the folks in this room, who are building tech and change every single day?
"Keep building, never stop learning, and keep shining. LendUp is a shining example of what other companies can be. You continue to disrupt some of the things that hold people in poverty and hold people down. Keep innovating, because you all are meeting people's needs and disrupting financial inequality."