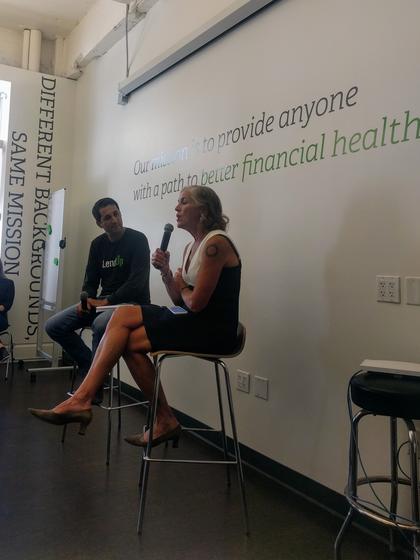 We were fortunate to have Kat Taylor, the co-founder and co-CEO of Beneficial State Bank -- and an all-around powerhouse -- stop by for a LendUp Talk. Beneficial State Bank's mission is to bring beneficial banking to low-income communities in an economically and environmentally sustainable manner -- which is closely aligned with our own mission of providing anyone a path to better financial health. Beneficial State Bank is our partner on the L-Card, our first credit card product, and we've been working with the bank for years to come up with innovative new solutions for our customers.
Kat -- who focuses, among other things, on financial equality -- spoke on a range of topics from racism, to financial inequality, to working with regulators, to fintech's role in society. We've pulled some of our favorite quotes from the discussion. We hope you are as inspired by them as we were!
1) On Kat's and her husband Tom Steyer's philanthropy: "We're trying to be fully on the gameboard across environmental, health/food, and financial inclusion issues. We want to be in the meeting room, helping make the decisions -- not just contributing financially. We recognize we're coming at this from a position of privilege and wealth, and we get up every day aiming to drive toward a collective solution where everyone is in power. And Tom and I are very much still in a process of education -- we wake up everyday to discover new problems, solutions, and ways of looking at these challenges."
2) On starting Beneficial State Bank: "We had an instinct that there was something wrong in the banking system. And I had been obsessed with the civil rights movement since I was a child. One of my earliest memories was watching the television and seeing the funerals of JFK, MLK, Malcolm X, Robert Kennedy -- which I considered to be the civil rights funerals. I had been waiting for my opportunity to do something about it since then. The civil rights leadership had always said that if we didn't get meaningful economic opportunity and access for all people, the legal and political rights would mean nothing. Many banks were started in the 70s around that marching order, and they built the platform on which Beneficial State Bank stands. We've done our best to structure our bank in a way that makes it a tool to better the lives of the people in our community." (Editor's note: You can find out more about how Beneficial State Bank works here)
3) On how the bank has made it work: "People. We're past the generations who are satisfied doing whatever from Monday to Friday, and then trying to clean it up on the weekends or in retirement. People want an integrated life. LendUp knows that, that's why you're all here. We have unbelievable talent who come to our bank wanting to make a difference, and they may have never thought they'd want to work for a bank. But they see it can be a magical tool and they want to be part of it."
4) On fintech's role in helping make the financial system work for everyone: "We tripped into a role that sits squarely between regulators and the fintech revolution. It's crucial that we be held in high regard by our regulators: they ensure we and other banks are operating fairly and in the best interest of consumers. But operating within entrenched regulatory frameworks can also force us into a very cost-heavy operational structure, which makes it hard to innovate and move quickly. So in come the fintechs. They are as important to us as the regulators. We reiterate every single day in our work with regulators that if we don't allow the kind of innovation that fintechs are capable of -- that's in their DNA, and that's bound to come out of fintechs and not out of banks -- we will all fail. So when our fintech partners are able to innovate while proving they don't undermine our high standards, we have the perfect marriage. And everyone -- especially customers -- win. This is the only way fintech innovation, which is so essential to the reform of the banking systems, can scale. We must work together."
5) On measuring social impact: "Like LendUp, we don't believe in profit maximization. We believe in resilient profit taking -- only taking enough to fund our internal growth and survive any shocks in the economy. After that, if we're earning an excess, we're taking consumer surplus that belongs to them as a lower interest rate. After being profitable enough to operate, impact metrics are our most important currency. We can't just be a good bank that's resiliently profitable and pats itself on the back for making some positive impact. If we did that, the banking system would never improve. So our theory of change is that we have to do what we do so well that we attract the attention of the large regional banks, and they see through our currency -- our impact metrics -- that if they act more like us and produce those impact metrics in some form, they will be successful. We've worked really hard to develop impact metrics of an output nature, because we want our loans to produce a new economy."
6) On preparing students to be change agents: "First: we don't currently teach financial education in public school. That's crazy, and we should be demanding those courses be given to students, to help level the playing field. We pass along LendUp modules to everyone we can find -- learning about how the system works is just crucial. Second: the deck is just stacked against students these days. Financial offers come with onerous debt, don't take into account living expenses, and college itself is becoming more and more expensive. You might not expect a bank to say this, but I'm actually in favor of four years of free college for all. Let's make it like public school, K-12. And then we'll figure out how to finance living expenses for those who need that, too. Help us advocate for this. Third: put pressure on financial institutions to take on the student loan markets. I know there are companies out there doing it, but we need a solution that works for everybody. And fourth: join us -- join the financial revolution. Vote with your money and with your ballot. And only work for and with companies that support the issues and causes you care about."
7) On community banking's role in filling the gaps post-recession: "We must demand more from our basic societal institutions. We're just not holding companies to high enough standards. Let's not let businesses off the hook and let's not let ourselves off the hook, either. As a community bank, not attending to where your money is -- not deciding whether to work with or invest in companies based on shared values -- is not a neutral position. We have to keep reminding ourselves that money is invisible, but it's powerful -- and we have to get the power back. We have to use our capital and our social capital to attend to issues like the structural racism and inequality ingrained in our economy and societal institutions, because everyone's still not starting on the same starting line."
8) On what LendUp can do better: "Do better is not even in my lexicon, I just want to do stuff with LendUp! I'm so thrilled with the L-Card, and I want to keep going, and build even more together. I'm thrilled that we might together co-create a full spectrum of products so that anyone can get on the credit ladder and do nothing but good for themselves over time. I also would love to increase the social and political capital inherent in our networks of borrowers."