Mission-Based and For-Profit: Not Mutually Exclusive
LendUp's mission is to provide anyone with a path to better financial health. And our core value of providing customers "Ladders, Not Chutes" is firmly rooted within our ethos, and ultimately within our products.
On the surface, this benevolent mentality may seem at odds with pervasive Silicon Valley, venture-backed paradigms of heavy customer acquisition and driving towards profitability. But we don't believe it is. Of course there's some tension between our "business metrics" and our "impact metrics," but we see it as a healthy tension that drives us to sustainable, customer-oriented products.
For us, building a company with a social impact means finding wins for our consumers that are also wins for our company.
One example of where mission and profitability play hand in hand is how we work with customers when they're facing moments of financial stress. If a customer believes they can't repay a single-payment loan on time, they can call us and extend the duration of the loan at no extra cost -- a feature that doesn't exist at nearly any other lender. Our customers appreciate the added flexibility, not to mention not having to pay additional fees. This bolsters our voluntary customer retention rates, which in turn lowers average cost per customer acquisition. It's a win for our customers and a win for our company.
Customers Value LendUp Education
Another win-win, which we're very proud of, is our LendUp Education courses. Today, these courses are a series of short, easily consumable videos that teach customers about budgeting, saving, how credit scores and credit products work, and how to protect themselves when using financial services on the internet.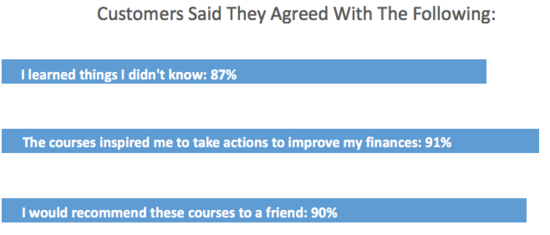 Our customers appreciate our efforts. We recently polled customers who have taken some or all of our courses, and the feedback was overwhelmingly positive.
Education Provides Enormous Value to Our Bottom Line
We're thrilled to receive such positive feedback about LendUp Education. But we've also learned that beyond helping our customers succeed, embedding education courses within our credit products provides a lot of value to our business. Clearly there is strong signal that LendUp Education drives brand loyalty and retention based on the feedback data. But we've also seen that there is a strong correlation between the number of courses a customer takes and their rates of repayment on our loans.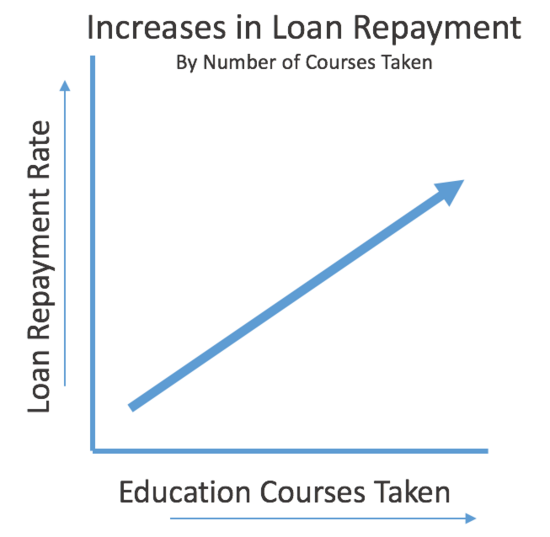 The more courses a customer has taken, the higher likelihood of successful repayment on their first LendUp loan. While we believe in LendUp Education's ability to improve long-term financial habits for the better, we don't believe that is the primary cause of this improvement, especially since the data represents people who have been LendUp customers for at most 30 days. More likely, this phenomenon indicates that customers who appear more eager to improve their finances are more likely to be responsible borrowers.
Incentivizing Education Usage Helps Customers Succeed Faster This is huge. Because we now know that customers who voluntarily take our Education courses are less risky borrowers, we can confidently accelerate their journey up the LendUp Ladder to larger loans at lower interest rates. We accomplish this by rewarding customers with points for each course they take.
By earning points, customers who take our education courses can access our sub-36% Prime Loans much faster than those who don't. This is a major incentive for customers, and is clearly working. Roughly 40% of LendUp customers have taken our Education courses.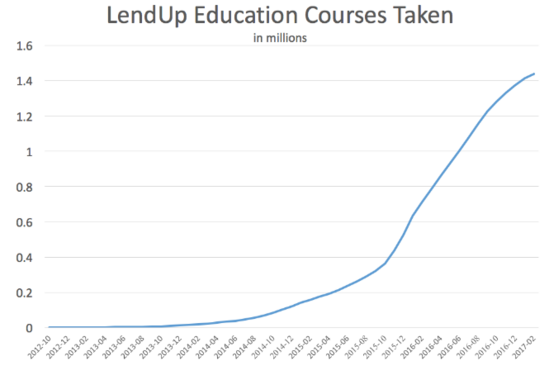 We're Excited To Do More
We're thrilled that over 1.2 million courses have been taken, but we'd like to see that number increase. We're constantly testing new ways to nudge even more customers towards taking LendUp Education courses.
We're also in the process of testing additional ways of promoting healthy financial choices and decision-making. Some examples include:
Offering tools and calculators that help customers apply financial literacy concepts to their own situations
Linking customers to LendUp partners, which help customers connect to expense-saving resources in their community or free one-on-one financial coaching
Timing the delivery of our educational content to customers at times when we believe they're making financial decisions
We know that the more our customers succeed on their path to better financial health, the more our company will be able to hit our goals -- whether social impact or business goals -- because the two are not mutually exclusive. We're proud that we've been able to build a company where our business wins only when our customers do. This concept is one of the unique challenges we're excited to tackle every day here at LendUp. And we're going to do even more.
Want to work with LendUp on testing the efficacy of financial literacy? You can reach us at socialimpact@lendup.com