A small business owner, a McDonald's cashier, and an Uber driver -- what do these three people have in common? In addition to being LendUp customers, they also all experience income volatility, which means that their income fluctuates substantially from month to month. When we think about the need for small dollar credit or credit cards, we often think it arises from an unforeseen emergency - a car breakdown, a plumbing emergency, or an injury that causes you to miss work for a few weeks. But in talking to our customers, we've found that many turn to credit as a solution for income volatility, or month-to-month income fluctuations.
One major source of income volatility is inconsistent work schedules for hourly employees. Daniel Schneider, Assistant Professor of Sociology at Berkeley, came to speak to us about economic instability. He focused in particular on his research on scheduling practices in the retail sector and its effects on employee wellbeing.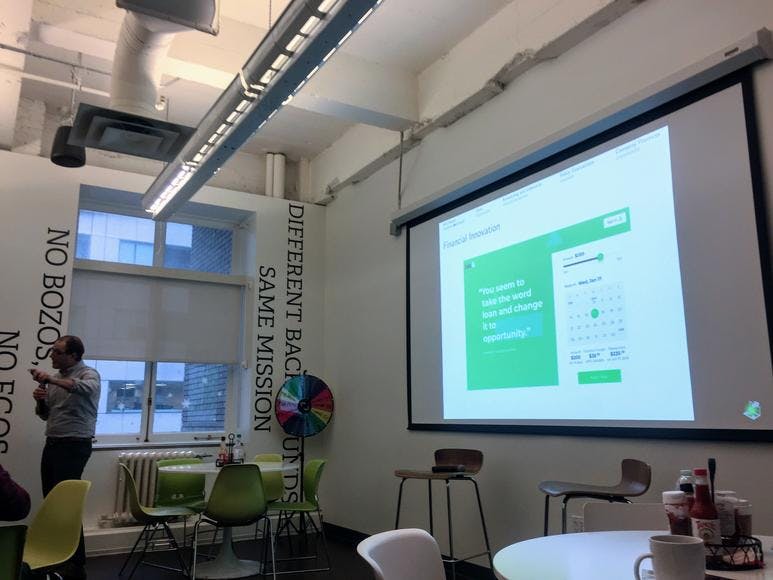 So, what did we learn from Dr. Schneider?
--
1) Hourly retail workers have unstable and unpredictable work schedules.
We now have data suggesting that there is widespread use of unstable and unpredictable scheduling practices. This means that workers at places like stores and fast food restaurants don't know their schedules very far in advance, shifts may be canceled at the last minute, and they are often given fewer hours than desired, making them more likely to accept last-minute requests to work shifts given their need for additional income. Employees may also be asked to both close and open a store, with only a few hours in between, without pay for those hours and without time to go home and rest.
Schneider and his team gathered data through surveys on Facebook that targeted employees of retail employers. Among the hourly workers surveyed, they found that:
Almost 60% reported variable or rotating work hours, meaning their hours were not consistent from one week to the next.
Around 60% reported receiving less than two weeks notice regarding their schedules.
Over half stated that their schedule is entirely determined by their employer, with no input from the employee.
Nearly 15% had a shift canceled within the last month.
About one quarter worked on call, meaning they were expected to be available for a shift if needed.
Given these responses, it seems that most retail employees are subject to at least some measures of instability and unpredictability in their work schedules.
2) Retailers' scheduling practices negatively impact the wellbeing of hourly workers.
Schneider's research then examined the effects of these scheduling practices on workers' economic well-being. Respondents with greater schedule instability were more likely to have experienced hunger in the past year, had difficulty covering expenses and paying bills, used a payday or pawn shop, and experienced psychological distress. This is even after controlling for other socioeconomic factors like household income, hourly wage, age, race, education, and more, establishing a clear link between stability and well-being.
3) New regulation and changes to employer practices have the potential to reduce the volatility that workers experience.
Given that there is a link between scheduling practices and well-being, what can be done to reduce the volatility and instability that hourly workers experience? One potential answer is through policy. Schneider and his team are planning to study the effects of Seattle's recent secure schedule regulations, which mandated that employers set schedules 14 days in advance and provide compensation when those schedules change. It also provides employees a right to rest between shifts, allows them to request preferences on their schedules, and gives them access to full-time hours before a firm hires additional workers. Schneider and his team will be studying whether these policies result in a significant reduction in the scheduling instability that workers in Seattle experience.
Employers can also drive change in scheduling practices (which LendUp CEO Sasha Orloff has written about for Forbes previously). While some see scheduling practices such as last-minute changes to shifts as an effective way to reduce costs, others have realized benefits such as higher retention rates by minimizing these practices. Further study can help us understand the longer-term effects of these practices on employers themselves. What is clear, however, is that employer practices influence the well-being of workers, and policy changes could dramatically affect outcomes such as employees' ability to manage bills and expenses.
The data Schneider shared underscores that, in the absence of a real change in employer practices, financial insecurity and income volatility are only likely to increase. Innovation in financial services could be one way to counter the negative effects these scheduling practices have on well-being. At LendUp for example, we are constantly thinking about our customers' financial lives and the types of services they might need. Four of the top five employers of LendUp loan customers are retailers that Schneider and his team studied -- and they found that the majority of employees from these companies surveyed reported experiencing at least some practices that generate instability. Better understanding our customers' circumstances allows us to build products that anticipate and solve for the challenges they face.
--
With over 10% of Americans working in the retail sector alone, the challenges introduced by scheduling practices are material. Add to that the growing numbers of workers in the gig economy and hourly workers at major internet companies (think warehouse and delivery workers), and you realize how many Americans may be experiencing financial insecurity. There is an enormous opportunity to build products for this segment, and I'm excited to be part of a company that is focused on meeting their needs.
Emma Kelsey is a member of LendUp's cards team, focused on credit and social impact. She studies customer needs and behavior to develop new products and features that meet their financial needs.