Troy Carter, legendary music industry manager and now tech investor (including in LendUp!), stopped by to talk about his career path, how DJs were the original hackers, and his advice for us and other startups. Below are some of our favorite parts of the conversation.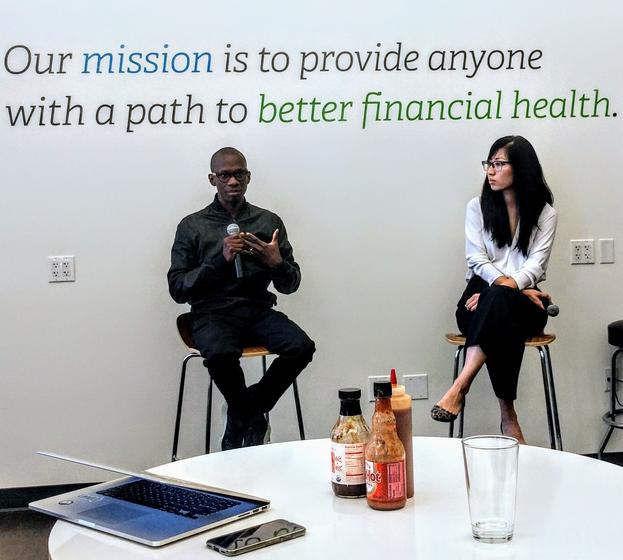 Tell us your story -- where did you grow up? "I'm an investor in LendUp, but had it existed back in the day I probably would have been a customer, coming from where I came from. When I saw LendUp for the first time, it was one of those businesses that I understood -- coming from West Philly, a neighborhood that was underbanked and underserved. The place is covered with predatory lenders and loan sharks, and there's a real lack of financial literacy. It's something I personally care about and something that resonated with me from the day I met Jake and Sasha."
So from West Philly to now. How did you get to where you are today? "My best friend and I had this dream I was going to be a pretty famous rapper -- which was crushed pretty fast when we found out we sucked. But I still came up in the music business, having started to work with Will Smith and his manager when I was 16. That took me to LA, then I came back to the East Coast and started promoting parties, and next thing I knew I was promoting hip hop concerts in Philly. From there I met P. Diddy at one of my after parties -- it was my first time really seeing a young, African American entrepreneur my age, doing something I really wanted to do. So I started working for Bad Boy Entertainment and then became the manager for Eve, who grew up right by me. Long story short we built a company to take on new talent like Eve, sold it, bought it back after it got too corporate, and then let go many of the clients to focus again on Eve. Then Eve fired me.
I was completely caught off guard and unprepared. I didn't have a contract, and I'd hedged my entire business -- and my life -- on this new company. This was one of the worst moments I've ever had, financially and emotionally. It was one of the most valuable lessons I've had as an adult, and a dad, and I feel it was put in my life to teach me to empathize with other entrepreneurs and know what they go through in dark times like mine. I didn't know it was normal at the time, and it took a lot to get me out of it.
But with the help of my network and meditation, I moved forward. I learned that I wasn't being punished, but rather focused on what lessons I could pull from it. Then I met Lady Gaga, who had just been let go from Def Jam and was also in a dark moment, and together we launched her career. We used a lot of technology and social media, and ultimately that got me into investing."
How did the music industry prepare you for tech and investing? "When I first started out, the startups to me felt like Def Jam, Bad Boy, or Ruff Ryders (without the guns and pitbulls). They had this "us against them" attitude, rambunctiousness, audacity, and confidence to really take on the world. It was that same energy that attracted me to startups. Both these music industry pioneers and today's tech startups have a culture that's so used to being told "no," that we built enterprises off of that "no." I'd even say DJs were the original hackers -- they took hardware and hacked together sounds. What they were able to do with turntables to create music, what they were able to do with samples to create records, that's hacking.
JayZ was told "no" on his music so he was forced to create his own label; Puff Daddy tried to do business with others on his clothing line but they say no, so they forced him into his own line. We learned about equity through pain points -- but it taught us the hustle, it taught us about ownership. It took a group of misfits and rebels, and taught them how to do it in a positive way that would build this value. So I connected with the spirit of startups and started investing.
I'd never heard the term "venture capital" -- I got kicked out of school in 11th grade, got a GED, and was terrible at math. But I did understand how people operate. Being a manager, you go around the world and walk around the arenas, and you see what kinds of phones people are using, what they're wearing, what merchandise they're buying. You develop a good instinct for things, and now as an investor I look at companies and products almost instinctively."
What do you look for in companies when you're considering investing? I look at the product and how people use it, the people I'm investing in (founders and team), and the people who will use the product. We're interested in companies we feel are really changing the way we live -- how we deal with content, transportation, banking, culture, etc. We also try to identify what the entrepreneurs we invest in have gone through. When times get tough, we want to know they can make it out on the other side (even if that's just them becoming a better entrepreneur for next time). I want to know: from a grit perspective, do you have the experience, personality, and life experience, to be able to take this on?
Our new fund's thesis is called "Cultural Investing," which means understanding consumer behavior and changes -- in the economy, geography, demographic shifts, or the minority becoming the majority -- and how entrepreneurs can use those shifts to create companies. We built that by studying and understanding companies like LendUp. Part of that thesis was built off of what you guys have done.
As far as advice for entrepreneurs launching their companies...?
People never want to talk about their dark defining moments, but it's those moments people need to share. It takes the pressure off of you, and lets you know you're normal.
Hustle, build, don't take no for an answer. Work harder than everybody.
Instinct and gut are monumental.
Identify all of the people around you who are smarter than you, and better than you at things. Have humility, be self-aware.
Always be fair with people, even when that's hard.
Understand your fans. Like Gaga, who knew every one of her first 50 fans by name, talk to your customers regularly. When you're just starting out, fostering a community of your users and making them feel valued and special is absolutely key.
Meditation will help you get to a place where you're more creative, always working on something you love, and where you're having impact on other people's lives. You can start by just monitoring your breathing -- when you do that, it's impossible to be in a state of anxiety because you can't be in the past or the future (where 99% of our problems come from). Another great exercise: visualize yourself up on a rock and look down at your problem. This helps you shrink that problem in your mind, and in your life.
My grandmother had a favorite saying: "You can't fall off the floor." When you hit rock bottom, you can only go up.