Highlights: - LendUp aligns its incentives to customer success by removing components of small dollar credit that can lead to bad outcomes - Seeking ongoing feedback from customers helps LendUp continuously evolve its products to meet consumer needs - Although low incomes and unexpected expenses are the needs cases most commonly cited by industry and consumer advocates, we also view income variability as a prominent challenge for consumers - LendUp's payment plans help consumers overcome income variability
One of LendUp's core values is "Ladders, Not Chutes," which means rejecting product components that could help our company earn revenue but negatively impact our customers' financial future.
Instead, the success of LendUp is predicated upon the success of our customers. Because we don't rely on late fees and rollovers, we are dependent on customers climbing the LendUp Ladder, where they gain access to larger loans at lower interest rates, are incentivized to take our financial literacy training and, in many states, can access credit reporting loans that help them improve their credit history.
Talking To Our Customers Helps Us Better Understand Their Needs To ensure that we're designing products that will result in the highest likelihood of customer success, we dedicate a lot of time to listening to our customers describe their financial challenges. When a customer calls us with questions, we often use the opportunity to ask about their overall financial health far beyond their experience with LendUp. We also survey tens of thousands of customers per year to better understand their needs and the challenges they face, and to get feedback on our products and services.
Describing Borrowers as Lower Income Doesn't Tell The Whole Story Consistent with research from the small-dollar credit industry, we've repeatedly heard from our customers that, as a result of limited disposable income and fluctuating expenses, budgeting is one of their biggest challenges.
But just as importantly, our customers have also told us that they grapple with incomes that can fluctuate heavily. Seventy percent of LendUp customers surveyed report having income that changes from month to month, with: - More than half (57%) reporting their income can fluctuate by more than $100 per month - One third reporting that their income can fluctuate by more than $200 each month
One hundred dollars may not sound like a lot of money, but for someone earning $40,000 - $45,000 annually, the most typical self-reported income range for our customers, this could easily translate into hard decisions between paying utility bills on time, buying gas to commute to work, or buying groceries.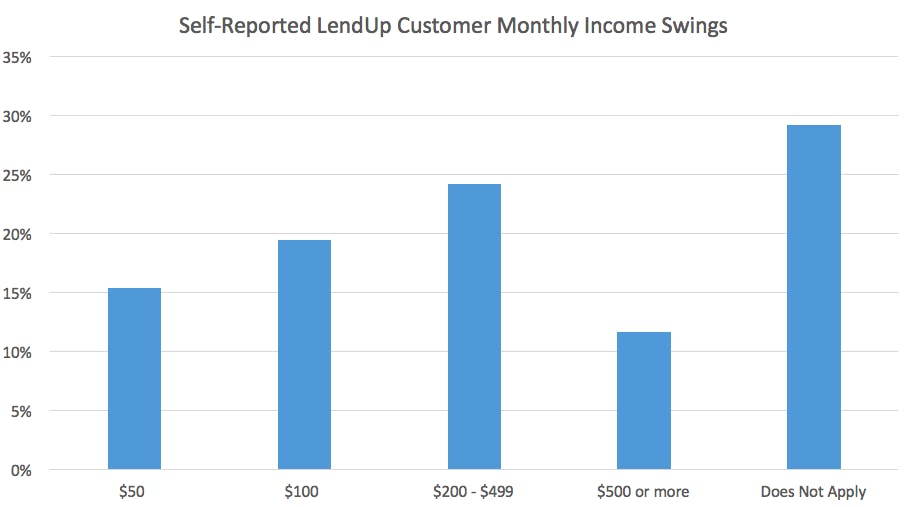 Therefore, we believe that income stability may be as important as annualized income when it comes to an individual's reliance on small-dollar credit.
Income Fluctuations Can Lead To Rollovers Fluctuations in income and expenses may not only create the need for short-term credit, but also make it difficult to repay those loans on time.
If a borrower at a traditional small-dollar credit lender can't repay a loan on time, their best option is likely to roll the loan over. Rollovers let borrowers double a loan's duration, but the cost of doing so typically doubles the loan's fees.
Rollovers are a pervasive problem within small-dollar credit. According to the Consumer Financial Protection Bureau, seventy-five percent of single payment loans are renewed on the same day they're due in states with no effective limitations on rollovers, and the median number of consecutive rollovers is six.
Payment Plans Help Customers Avoid Rollovers Because of our "Ladders, Not Chutes" principle, LendUp does not offer rollovers. We believe they create debt traps. Instead, we offer customers the option of a payment plan, which gives them the same ability to extend their loan's duration, often by as much as five times the original duration, at no extra cost.
Breaking loans into smaller, periodic installment payments also means customers who may not have the funds to meet their original obligation, often because their monthly income has dipped by $100 or more, have a greater likelihood of being able to make smaller, periodic installment payments.
Payment Plans Can Save Customers Money
Being able to extend the duration of a loan without rollover fees can also save customers a lot of money. For example, a LendUp customer in Missouri can extend a single 14-day loan to as long as 90 days at no additional charge. At a traditional small dollar lender, that would likely translate to five rollovers for a total of $93 in fees on the original $100 loan (versus $15 in fees at LendUp).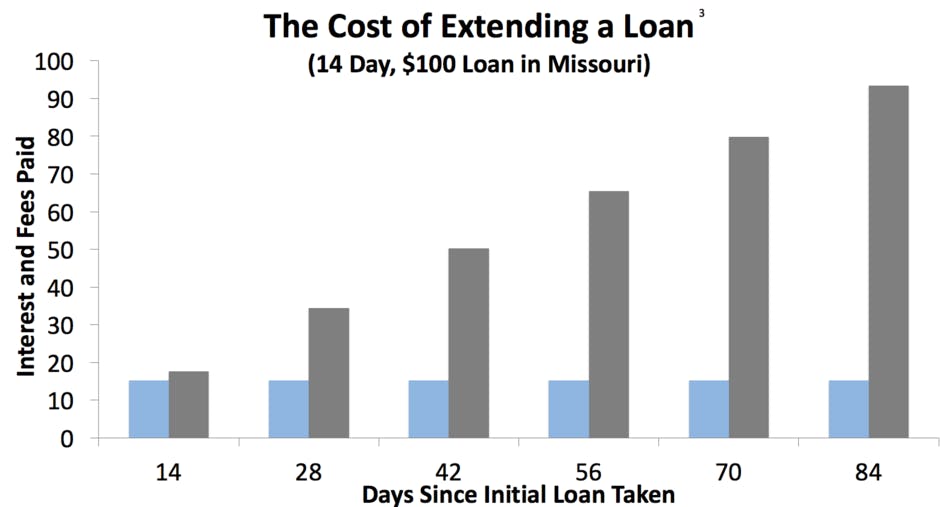 Working with our customers to understand their challenges means we're able to design product features that increase their odds of repayment — saving them money, stress, and the ripple effect of missed payments. At the same time, we educate customers on credit and personal finance, helping them build their credit history, and ultimately helping them improve their financial health.
3 Assumes customers rollover every two weeks to reach the 6 loan string per the CFPB's average. Uses actual rates in MO for LendUp and a series of industry leaders for a 14 day, $100 loan. If a borrower is unable to repay the full amount, the lender may give her the option to roll over the loan balance by paying a fee, usually equal to the original finance charge. In Missouri, principle balances on subsequent loans have to drop by 5%, which is reflected in this chart http://files.consumerfinance.gov/f/201304_cfpb_payday-dap-whitepaper.pdf. LendUp customers can extend a loan of any length to its maximum original loan length of 30 days. From there, customers can create a 60 day payment plan for a total of 90 days. Customer would pay 25% of the principal at day 30. After the 90 day LendUp loan period, the loan is in default and goes into collections.