Last week the Center for Financial Services Innovation (CFSI) held their annual EMERGE conference. LendUp was there to share our experience building the next wave of financial services for those shut out by traditional banks, and our experience partnering with other organizations or institutions to find innovative new solutions to improve Americans' financial health. Check out our highlights below!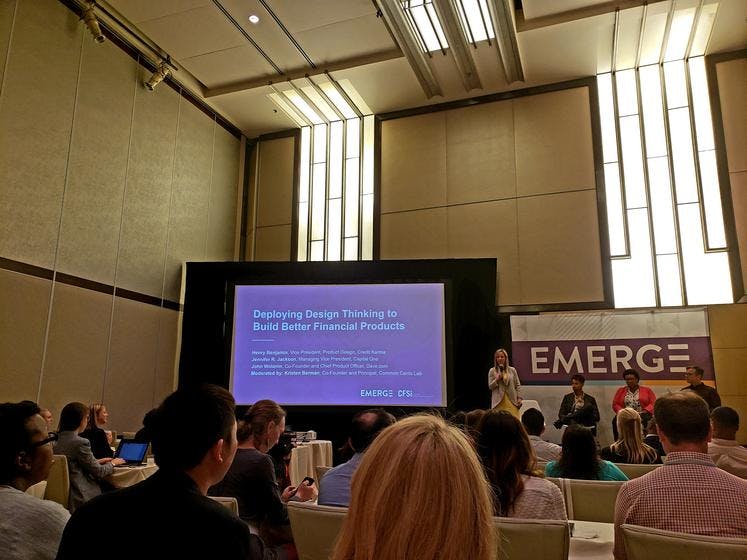 What was your top takeaway from the conference? There was a lot of hope and optimism about the potential that we have to impact and improve the quality of financial services for underserved Americans. But, there was also a dark cloud that was acknowledged: there is a lot of work that must be done given Americans' financial state today.
Jennifer Tescher, President and CEO of CFSI, said that we are in a financial disaster as a country. We know this to be true -- Pew Charitable Trusts has found that one in four households experience month-to-month income volatility, 60% of families experience a financial shock during the year, and one in four families have no non-retirement savings. When you consider that many of these families are financially excluded from mainstream banking, either due to thin or damaged credit files, it is pretty sobering.
Jennifer asked us to consider: what does a community have to do after a disaster? They have to rebuild. But, like any disaster, whether natural or manmade, the responsibility to improve, repair, and rebuild cannot be solely on those who are victims or struggling.
This is where the royal we comes in. In this instance, the "we" is the entire community of stakeholders out there helping consumers improve their financial health, including us here at LendUp. From nonprofits like EARN.org, one of our newest partners who provides low- to moderate-income Americans with the opportunity to build a savings habit; to other fintech companies like Dave.com that are helping consumers understand when they are at risk of overdrafting; to CFSI itself, which has guided how we evaluate customer financial health and opened doors for partnerships -- we all have a role to play. The beauty of conferences like EMERGE is that we realize how much shared value there is in the work we're doing. The opportunity to partner is ripe, and we're ready to evaluate which partnerships allow us to scale and increase our impact.
So to summarize: partnership is more important than ever, as the problem of American consumer financial wellbeing is so big there is no one silver bullet solution. Thinking holistically about solutions that employers, government, individuals, and companies can provide will be crucial if we want to solve this growing crisis.
Who was particularly inspiring at the conference? PayPal's Dan Schulman came by to discuss his style of leadership. He believes that the company's values must be lived and breathed by all, and should be a part of every decision the company makes. His discussion about their decision to not open an office because the state in which it was going to be located had recently passed a law that discriminated against the LGBTQ community was particularly inspiring. He also talked a lot about the importance of walking the walk when it comes to social good -- and that saying you're going to do something is not enough.
Speaking of walking the walk, Dan shared a lesson in empathy building. He once spent a day on the streets, to get a glimpse into the day-to-day of someone who is homeless. He was trying to cash a check at a check casher, but had difficulty with his name on the check not matching up with his driver's license (Dan vs. Daniel). This brings to mind the idea that it's not enough to just imagine what life is like for the consumers or individuals we're hoping to impact with our products, services, and programs. We need to not only feel sympathy, but build empathy. So, whether that's visiting a check cashing store or spending an hour talking to your customers, we should all strive to connect more deeply with our customers.
Related, a session called "Design Thinking to Build Better Financial Products", led by Common Cents Lab, stressed the importance of iterating, talking directly to customers, testing, and learning from failures. One concept that we found worth touching on was that of friction. Product designers often want to reduce friction (such as making something opt-out vs. opt-in) to make a product or experience more seamless and eliminate barriers. However, sometimes, you may want to add a point of friction to drive a desired behavioral change. For example, one company shared how they added a pop-up that explains the negative consequences of not paying at least the minimum monthly payment on a credit card. The result was an increase in monthly payments. On this panel, Credit Karma shared that they strive to give consumers as much information as possible to inform decisions. They keep this in mind throughout the user flow, helping them determine where to insert smart messaging around financial decision-making.
In fact, it's this type of active listening or experiential learning that can inform some of the best product designs and innovations, and something we take seriously and partake in very often at LendUp.
What are we working on here at LendUp that you think attendees would have been interested in knowing about? We are thrilled to have forged a number of partnerships that speak directly to the power of cross-sector collaboration-- something EMERGE, and CFSI generally, are great advocates and supporters of. For example, we've partnered with nationally-recognized nonprofit EARN, to offer their SaverLife program to our customers and at the same time study the behavior of people looking to save while they have debt. Another example of a data-driven partnership with a service provider is our program with SpringFour, a B Corp that connects consumers to local cost savings in their community. The impetus for building these two partnerships was our measurement of customer financial health, using CFSI's financial health score. As an early adopter of the scoring methodology, we've been able to see that our customers struggle in the area of short-term savings. And we sought out to address this need.
In addition to launching partnerships that enable us to provide additional benefits and services to our customers, we engage in research partnerships. We've partnered with the Aspen Institute EPIC team to launch Finance Forward, a multi-city event series and research initiative that for the first time brought together elected officials, businesses, community advocates and nonprofit leaders to identify and advance actionable solutions to the growing problem of income volatility in the U.S.
We're interested in pursuing additional partnerships with organizations that can help our customers better budget, save, and improve their financial health. We're also looking to partner with academics and major research institutions that have questions related to debt and financial health. Finally, we are looking to help direct service providers and community organizations provide consumers access to safe, transparent credit options. Please reach out at socialimpact@lendup.com if you'd like to chat.
How do you see your learnings from the conference playing into your work here at LendUp? I was very interested to hear about Greenpath Financial's iterative approach to testing and launching partnerships. They explained how they fail fast, even within a few hours, and test new questions with a financial counselor in one day, with one observer. I loved the company's openness to sharing their process, and hope that they'll inspire nonprofits to take a more iterative approach to launching new programs.
At LendUp, as a fast-paced technology company, we embody a culture of learning fast and making quick iterations to improve the experience for our customers. In fact, we've quickly tested ideas with our customer insights team, directly with our customers in the past. We've also spoken to our customers a lot (many in-depth, and with and hundreds of thousands by surveys). Although I view us as a leader in collecting consumer insights, I was inspired to ramp up our process of quick and dirty feedback. Of course, there should not be a goal to collect feedback for the sake of feedback, but any company that is direct to consumer should constantly ask itself: could I easily talk to 7-10 customers about this question or idea to inform next steps? I know I will ask myself this question more often and try to institute this throughout the business.
Amanda Lotz is on LendUp's Social Impact team.