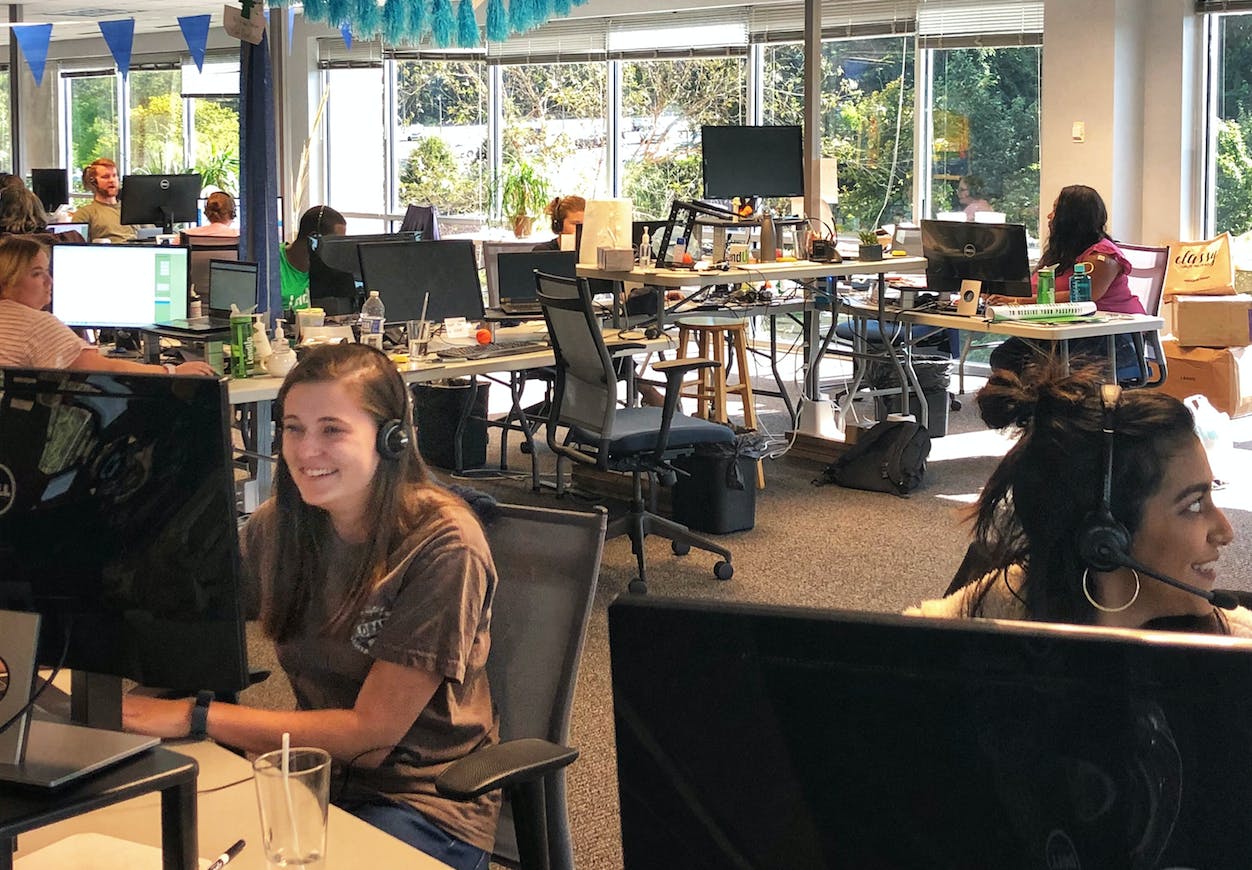 At its core, customer service is best explained by the old proverb, "Give a man a fish and you feed him for a day; teach a man to fish and you feed him for a lifetime." It is problem solving. In this field of work, that can range from something as simple as recommending an ice cream flavor to something a bit more complex, such as how to better invest your savings for the future. No matter how complex, the goal remains the same: to teach someone how to fish.
In case you didn't know, this week is National Customer Service Week. I've worked in this field for a few years now –  as a volunteer suicide counselor, an ice cream scooper, and now an Account Coordinator with LendUp. At LendUp, our Customer Insights (CI) team has two main units, credit cards and loans, that service each product's customers. As a member of the card servicing team, it is a pleasure to interact directly with our customers, becoming the "face" of LendUp with each interaction I have. Ever wondered what it's like being on the front line of customer service? Read on.
Talk to us about your day-to-day and your role serving our customers.
My day-to-day is pretty simple. After logging into the CI servicing tool we use, I check my schedule for the day – I'll either respond to emails, answer incoming calls from customers, or attend meetings. From there, I dive into my assigned tasks, taking a break every now and then to caffeinate just enough not to sound like a zombie, but not so much that I become an overstimulated mad scientist on my calls – it's truly a delicate balance. When it comes to servicing our customers, it is important to note that the folks who call in are usually not doing so for fun. Organizational behavior specialists have confirmed time and time again that people who use customer support tools need help fixing a problem, or had a bad experience and want to complain. Nine times out of ten, these are the people calling in. It is our job to make sure that they come away from the interaction smiling and thinking, "Hey, that wasn't so bad after all." Now, not every call is a problem to fix or grievance to address – they can be as simple as processing a payment over the phone. Often times though, the conversations require CI team members to wear many different hats. People call in asking for monetary advice, inquiring why a transaction declined, requesting fees to be waived and beyond. We're at once therapists, investigators, and teachers. We are here to educate our customers so they walk away from the conversation knowing "how to fish."
What are the greatest challenges in your role?
It is challenging to take someone who is having a bad experience with our products and turn the short call into a worthwhile experience that will change their perception. Occasionally I encounter customers that are more resistant to help. These are the toughest calls because they may end without a resolution to the problem. We aim to end every call with a resolution to the issue, but it is not always possible, which can be frustrating.
What is the most rewarding aspect of your role?
The most rewarding aspect of the job is watching a customer you've corresponded with make progress and improve their financial health. I spoke with a customer who was very close to charging off. We discussed payment options, but it appeared that one of her payments did not go through. I only discovered the bad payment after the call. To resolve this, I emailed her in length about the situation. I made sure to plainly state the  scenario and to lay out the available options to bring her account current. A few weeks later, during my one-on-one meeting with my manager, Will, we discovered, to both our delights, that the customer made a successful payment and her account was current. I know my role as a CI agent is to help people, but I do not always have the opportunity to witness the difference I can make. It was so gratifying to see that, thanks to my advice, this customer now had a usable card rather than a stain on her credit score. It felt really good to be able to see evidence of the work I do making an impact.
Besides the previously mentioned, is there another favorite customer moment?
My favorite customer moment was helping out LendUp customer Stevie with a name change. Stevie is a transgender woman who was recently approved to change her name. She wanted to make sure we had the correct name on file. After we successfully updated her records, she disclosed to me that LendUp helped her credit score recover after it was negatively impacted due to her status as a trans woman. As a fellow member of the LGBT community, I was very moved. I feel grateful to be part of a company that helped someone in my community validate her identity and re-establish herself.
What advice would you give customers?
We want to work with you and be a team to solve any issue you may have. I think we can easily seem like the enemy, but we really are on your side. We are often times just as perplexed about the issue you are having, we just have the technical know-how for how we can reach a conclusion. We cannot reach that conclusion though, if you are not willing to work with us.
Our job is to educate. To help you "fish" better. Let's do that together.