Members of LendUp's Social Impact, Growth, and Communications team recently attended the Hope Global Forum, which focused on economic empowerment within the financially underserved market. We recapped some of our main takeaways below.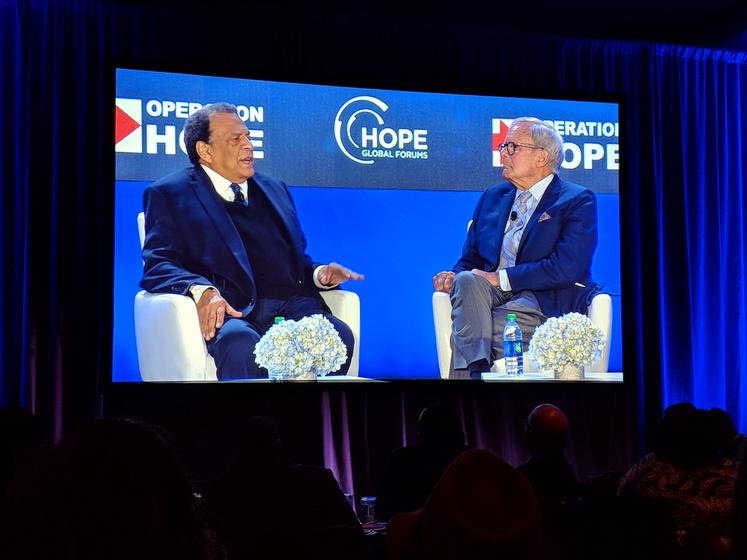 Looks like the conference had a wide range of speakers and covered a variety of topics. What was your top takeaway from the week? Attendees weren't all from purely financial health and financial services backgrounds, and came from a variety of focus areas and backgrounds. Through conversations and listening to questions throughout the sessions, it's clear that there is a lot of dissatisfaction with how the existing credit reporting system shuts nearly half of Americans out of mainstream banking. There seems to be a lack of understanding of how credit decisions are made, what influences a credit score, and what resources are available to consumers. The "black box" of credit scoring was criticized, with a call for more transparency.
Attending the conference, in the presence of so many leaders who advocate for economic, civic, and social equality on a daily basis, we were drawn to consider how we can lead by example in our everyday lives. We're encouraged that we work for a socially responsible financial services company that is helping anyone on the path to better financial health by creating an actionable path to rebuild or repair credit. We see a tremendous opportunity to strike new partnerships with community organizations and employers, supporting a shared goal of including marginalized consumers in the financial ecosystem and on the path to better financial health.
This calls to mind a quote from Raj at Conscious Capitalism, who spoke on a few panels at the conference. "People want to be inspired, cared for, valued. Human beings are our most valuable renewable resource." In the realm of financial services, providers -- especially in the subprime space -- should view their customers as long-term, lifelong partners in financial health, until they outgrow and move into products in the prime space. Taking a short-term view to achieve short-term gains on consumers is not going to lead to a more inclusive society, nor is it a solid business strategy. We need to think about long-term investments for all stakeholders, the most important one being consumers.
Were you surprised at anything you learned at the event? I was surprised to learn about the robust financial education program, On Up, that SunTrust Bank offers to its employees and employers around the country.
SunTrust shared a statistic that 75% of employees don't think that their employer cares about their financial well-being. That's a big problem. If employees don't have a sense that their employer is invested in their financial well-being, it can have massive negative consequences. According to a 2017 Employee Financial Wellness Survey from PricewaterhouseCoopers, 1 in 3 employees report that issues with finances have been a distraction at work. Another report from the Center for Financial Services Innovation states that employees with high financial stress are 2 times as likely to use sick days when they're not actually ill. The cost to employee emotional and physical well-being, as well as the business, can be high.
At LendUp, we're very interested in engaging with major employers and learning from the work that they're doing to engage their employees around financial health. For example, do they designate one day out of the year so that employees can focus on financial planning? Do they offer incentives for participating in 401(k) programs? Do they offer benefits to employees who participate in financial education or financial coaching programs? Do they nudge employees to contribute automatically to savings accounts?
LendUp offers financial education courses and products that help consumers on the path to better financial health. We're seeking opportunities to learn from and work with employers to see how we might be able to support their programs.
What or who inspired you at the conference and why? In addition to Raj from Conscious Capitalism, Tishaura Jones, the Treasurer of St. Louis, Missouri. Tishaura is working to improve the financial health of her constituents every day. Treasurer Jones runs an innovative college savings program, called College Kids, that allows city residents to sign up for a college savings account once their children enter kindergarten. They offer financial coaching, workshops, and incentives for parents to contribute to their children's college savings account. Starting the habit early, they're getting thousands of families on the right track for their children's future.
Also, Tom Brokaw and Ambassador Andrew Young had a great on-stage discussion ranging from the state of politics and division in the U.S. today to the early-stage gun control movement led by students. There was a great comparison in the discussion of how students today are using social media to challenge established organizations and interests, which is very similar to the civil rights movement and how leaders at that time found and effectively used TV as a medium for change. The general theme was that it's often in challenging times that the youth and other thinkers latch on to new ways to communicate, organize, and push a progressive agenda.
What are we working on here at LendUp that you think attendees would be interested in knowing about? We think the conference reinforced why LendUp is so important. The US has a very large group of consumers who care intensely about their financial health, want to improve for themselves and their families, but have been put into a situation where the deck is stacked against them. Without ethical players like LendUp creating new models to provide credit to these consumers and to force changes in the space, the market would never adjust and predatory players would continue profiting by making the underserved worse off.
We think attendees would be interested in learning about how LendUp is taking a holistic approach to financial health, is open to innovative cross-sector partnerships to expand access for consumers, and is seeking ways to change or influence consumer financial decision-making for the better (i.e. making more on-time payments). Many creditors design products to maximize profit, want consumers to use all of their available balance, or tack on egregious fees or penalties if a customer makes a mistake and is late in paying. LendUp is so different from the traditional short-term loan and credit card providers, in that we're designing our products so that customers can succeed.
Interested in learning more about LendUp? Email us at hello@lendup.com!