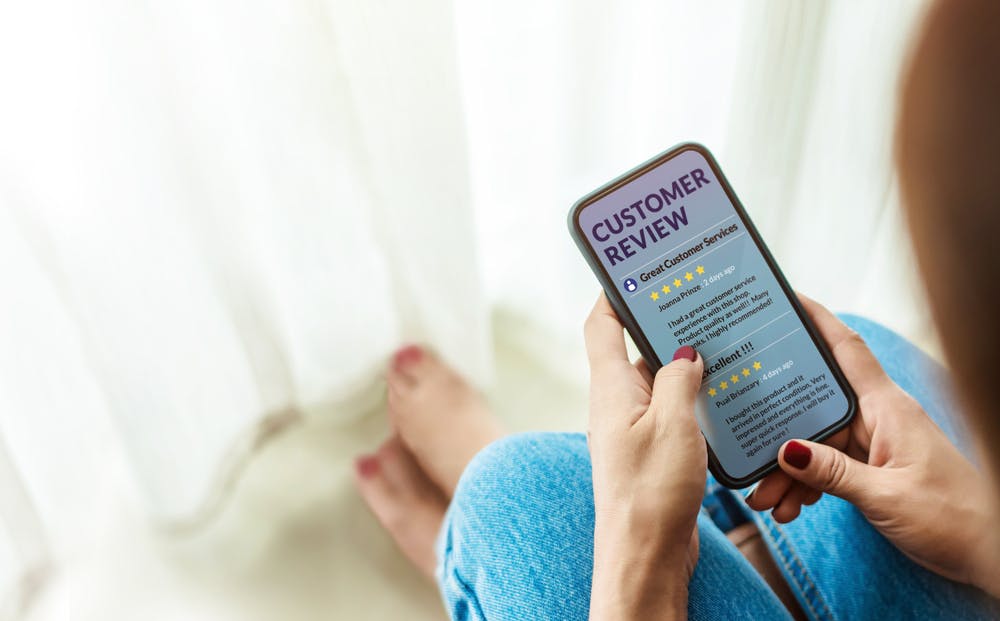 According to a study from the Center for Financial Services Innovation (CFSI), 27 percent of Americans have subprime credit scores and 36 percent of Americans can't pay their bills on time. The study reports that some people turn to credit to close the gap when money is tight. For those with poor credit scores, payday loans are often a viable option if a credit card is unavailable or maxed out.
In an industry fraught with scandal and shocking policies, vetting payday lenders is necessary to avoid pitfalls. When choosing a payday loan company, look for one that offers responsible loan options, transparent policies and loan terms, and good customer care. One of the best ways to review a potential lender is by looking at customer reviews.
Consumer psychologist Cathrine Jansson-Boyd suggests that people tend to remember the first and last in a list, so, "It's the first five or six reviews that people tend to read and then if they're really interested they'll scroll to the last one." We offer consumers several different strategies to gather information about a lender's services and reputation from consumer reviews. Here are a few things to look for when reading through lender reviews covering the short-term loan industry.
Trends
Look for trends when interpreting payday loan reviews. Trends can indicate quite a bit, from review veracity to company culture, service, and policies.
Trends in verbiage, posting date, syntax, or common specific examples, often point toward fake reviews. While knowingly posting fake reviews is illegal, it does happen. Not only do some companies post fake reviews, but they also pay for them. This is illegal and unethical, but consumers still need to know how to spot genuine, useful reviews.
MarketWatch says to be wary of the overuse of pronouns, vague words like vacation or business trip to set the scene, as well as timing spikes right before a big product or service launch. Additionally, the article warns of similar language patterns, which can often be a sign of a review mill or black hat marketing service's reviews. To uncover any malfeasance, start by sorting reviews. "When in doubt," says brand manager Steve Wimmer in MarketWatch, "sort reviews newest to oldest. Generally, if a product is launched with fake (or biased) reviews the truth will come out over time."
On the other hand, once you filter past those tactics, trends in consumer reviews can be really helpful in determining whether you want to work with a company. Look for idea trends, including feedback about whether processes are fast or slow, simple or complex. Idea trends in customer reviews help to reveal positive experiences, as well as hidden policies and pain points.
Customer Service
When an issue arises with your payday loan services or account, what do you do as a consumer? You call customer service and talk with someone on the phone. That one-on-one experience is likely to make or break your whole vision of the company, so it often ends up in reviews. You can tell a lot about a company by the culture reflected in its customer service team. Though you won't necessarily talk to the same rep, you will talk with someone. Seeing trends in a lender's service culture can either be a red flag or a good sign when reading through reviews.
Company Policies
Often, a lending company's financial policies are the deciding factor for prospective borrowers. These include the type of loan services, loan amounts, interest rates, and fees, as well as other perks like online loan services, a debit card offering, or whether the lender can help build credit in the long run.
If negative borrower reviews are critical of well-publicized policies about repayment, application experience, or fees, it is easy to empathize with the borrower, but one should also consider that the borrower  may be venting about an avoidable experience when they posted the review.
If negative reviews are critical of policies that are not transparently stated on a lender's website, these reviews are also helpful. Look for recurring themes of undisclosed information or unexpected costs or outcomes during your decision-making process to avoid what could be a predatory loan company.
Lender Replies
When a borrower shares a bad experience, does the lender solve the problem or ignore it? This is a vital part of vetting any company that you are considering working with.
First, if a company isn't replying, it's hard to know whether the company would react or help if you had an issue. Second, if it is replying with unhelpful responses, you get additional insight into the way that customers are viewed and valued. Third, if a lender is replying to reviews, consider how seriously it takes customer issues. Look at the way that Lendup replies to reviews.
Conclusion: The Big Picture
Consumer reviews are one of the most valuable tools we have at our disposal when selecting a payday lender or payday loan alternative, like Lendup. To get the overall feel for a lender, read a couple of good reviews and a couple of bad reviews. Then read some reviews that are somewhere in-between. "These reviews are often the most honest and insightful about both the positive and negative aspects of the venue and can be used to cross-reference other reviews to look for trends in both positive and negative feedback," says digital PR consultant Marc Nashaat in MarketWatch.
Just remember that a simple aggregated star or point structure doesn't tell a lender's whole story.
Separating the wheat from the chaff and looking at the big picture can help you engage with a better payday lender. Check out LendUp's reviews to see how this provider stacks up:
About the Author: Anne-Marie Hays manages the payday loans blog for BestCompany.com, an independent, impartial consumer review site.