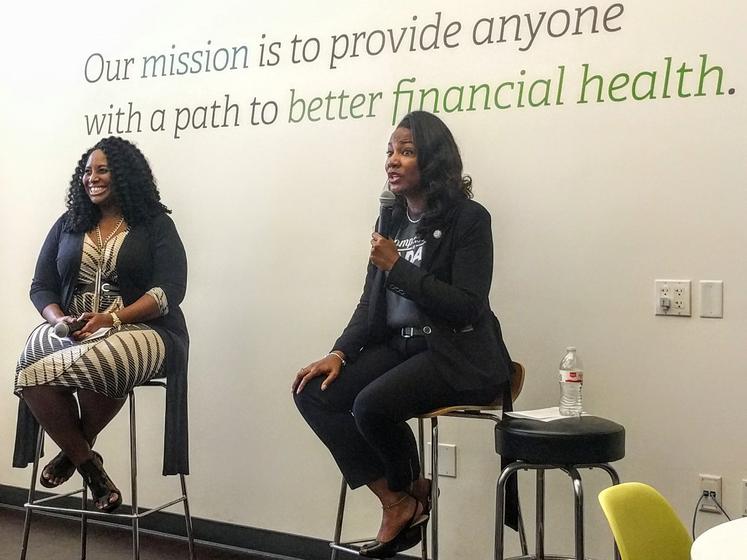 Earlier this month, Janaye Ingram, Director of National Partnerships for Airbnb, stopped by LendUp to speak with Jotaka Eaddy, our Vice President of Policy, Strategic Engagement, and Impact, about her path to Airbnb, the Women's March, and lessons learned along the way. Check out some of our favorite parts below!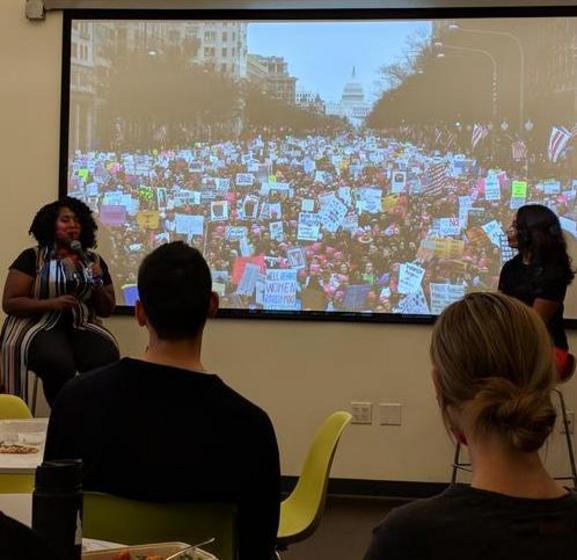 LendUp was inspired by Mohammed Yunus and the Grameen Foundation's use of microlending to empower entire communities. Early in your career you worked at nonprofit microlender Project Enterprise. Tell us about your work -- what did you learn and what do you think that we as a society should think about when it comes to empowering communities through lending and microlending?
Truthfully I never imagined myself in microlending. But through the work I did at Project Enterprise, and learning about Muhammad Yunus' work -- it changed how I think about entrepreneurs. Small dollar lending can take not just an individual business owner, but an entire community, to a new level. One entrepreneur I worked with had done 10-15 years in prison for bank robbery. As a convicted felon, he came out of prison and didn't have any prospects. And while that dashed his ability to create a "traditional" living for himself, he had a card table and got $100 from his network. He invested in some soap and incense, went out in Harlem, set up his table and put his products out -- and over the years became a businessman who people would come specifically to Harlem to see and do business with. He eventually got to a place where his net sales were in the 6-figures and he was able to provide business opportunities for the homeless on the streets, like paying them in the morning to set up his table.
He used his opportunity to better his situation and provide for his family, and then it spilled out into the community. That really inspired me and reminded me of the power of connectedness, and how all of us are tied together.
You were also in beauty pageants! Can you talk to us about that experience?
I think there is a stigma around women who compete in pageants -- that they're vapid, not intellectual, and only focused on the exterior. To the contrary -- being in a pageant is one of the hardest things I've ever done. All of the women I competed with were smart, educated, and accomplished. All of us had ambitions and goals. I entered because I wanted to do something for my community, and while I was making an impact volunteering my time as an individual, I felt if I had a brand that people recognized, I'd have a bigger platform to do the work I wanted to do. I created a literacy tour because literacy and education broadly is something I was really passionate about. Because I had this platform, I was able to do so much more.
You've been on this incredible journey. The platform with Miss New Jersey, your work in New York around microlending, and more recently, your time in the civil rights community as Executive Director of the National Action Network. You worked on issues from expanding voting rights to the work around criminal justice reform, but also, more specifically, you've worked with mothers who have been victims of gun violence and police aggression in the country. Can you talk about that experience?
Working with NAN really opened my eyes and gave me a new understanding and appreciation for how vital civil rights organizations are on this issue. Families of gun violence victims often feel like they don't get justice, which is something that really makes you compassionate on a deeper level. These families aren't just people whose names are in a headline -- they're people who are grappling with how to deal with loss. The police have a union and a whole system set up to protect them – they have legal counsel, people to advocate on their behalf. But the families don't have that. After they get the call, they don't know what to do, where to go. For a lot of families, NAN became that place they went. And work like this has been going on for years and years -- it's just now coming into the spotlight.
Being a black woman in the civil rights movement…. Let's talk about that for a few minutes.
As black women, we have to deal with constant tension of navigating the world that views us both through a racial and gender lens. Those two things you can't separate -- we're one whole individual. There is sometimes this thought that when you're in a room full of black people there's an understanding of the disparities that exist, and that's not exactly true. I've been in rooms where people think I'm there at the table because I'm dating someone, or because I'm pretty. I have to put people in their place - I'm here because I have value to add; I'm here because of merit. It's still something we contend with in the feminist space. But that's why it's so important to ensure you have diversity in these rooms. Being part of any and every conversation is really important because if not, your issues get marginalized and pushed to the side. After all, if you're not at the table, you're on the menu.
Let's talk about your transition from civil rights advocacy to Silicon Valley in tech. You're serving as National Director of Partnerships for Airbnb. What was your inspiration?
Being connected to a company's mission work and feeling like you're empowering communities is important to me. There are lot of companies in Silicon Valley that would not have been the right fit for me. The more I learned about Airbnb, I saw the thread of empowering communities that exists through Airbnb. And I'm really excited about the work we're doing and my role in it.
Imposter syndrome is common among black women in tech and others who come into the tech world from elsewhere -- there is a fear of not fitting in. You've been able to make groundbreaking contributions, like the partnership between Airbnb and the NAACP, right after Airbnb was on the bad side of black Twitter. What's it like to bring activist / strategist / grassroots perspective to a tech company?
Airbnb created a community commitment that everyone who uses Airbnb has to abide by. If you don't, you cannot use the app. That commitment led the company to be able to remove people who were going to Charlottesville, NC to be part of the racism rally from the platform immediately. Joining a company that was already leaning into the issues that it was having and making a commitment to address these issues makes my job as an advocate and activist easier. Bringing techniques and tactics I'd learned and applied in other circumstances was vital and important to the work we were doing. I'm really proud of the partnership between NAACP and Airbnb because it is a first of its kind partnership - the NAACP gets revenue for anyone they bring onto the platform. We as a company do not collect race data on our hosts. But knowing we are partnering with NAACP lets us know we are reaching out to hosts that are black. That lets us deal with discrimination issues because it creates an ecosystem that's more welcoming to all people. This is just the first part of the work I've done at Airbnb, but I'm super proud of it. There is lots more to come in the pipeline that will continue to build on this.
Now, let's talk about the Women's March. It really starts with technology. Can you elaborate on this?
Technology is the driving force creating many of the important civil rights moments we're seeing today, and helping people understanding their impact nationwide. In the case of the Women's March, the night of the election, all of us on the east coast went to sleep praying for an outcome that's different than our current reality. A grandmother in Hawaii was awake and saw the election results unfold live. She was clearly upset about what the results were. She posted on Facebook to about 40 of her friends – "we should march on Washington." She woke up the next morning and 10,000 people had posted -- "what's the plan? Where do we need to be?"
Simultaneously a couple women in New York said we should march and do something during inauguration weekend. Those women joined forces, the March gained steam, and by Wednesday or Thursday after the election they realized that this thing was growing. But there were no women of color involved. The election specifically showed that 53% of white women voted for Trump while the majority of black women voted for Hillary. So there was some tension that existed because black women felt betrayed.
I got a call asking me to plan the march. I've planned a lot of marches from the logistical side -- there's the stage, the sound, the jumbotron, everything. That's the meat of what is there. There's also organizing that happens -- outreach to various communities, getting partners and funders to the table. There is a whole team that worked to create all of what the Women's March is today. Needless to say, none of us knew we'd have over one million women in DC, more than five million around the world. It was the day before or the day of that we learned we had marches on all seven continents. It was mind-boggling.
The Women's March propelled a movement. Now we see "me too" and we see "time's up." The consciousness of the country is awakened in this moment and we're seeing these movements pop up. Can you speak on the current state of our nation and how you think the Women's March continues to push that forward?
The March - that moment - I don't feel like we owned it. It's not ours. It's really for the people who showed up. We just helped shape the process. We were just midwives who helped birth it. There were things happening on a state and local level well before this, issues Jotaka and I were fighting when we were in civil rights. There were things happening and those seemingly unconnected issues were brought together during the last election cycle because in so many ways the administration and election called out these issues and brought them together in the embodiment of a candidate. What has happened is that women who maybe never before marched or demonstrated - of which there were many - now realize that their voice matters. Their presence matters. And I think that's given way to a lot of what we're seeing. Exponentially more women are interested in running for political office since the march. There's something to women understanding that we cannot wait for other people to make space for us. We have an opportunity in this moment to make space for ourselves. We have power within our voice and our presence. We can and should fight for these things. It's unfortunate that we're so focused on one person because the issues have been around for a long time. But if that's what it takes, that's fine.
It takes a politically charged moment to make way for a lot of things. We're in a political moment where there are so many more sensitivities and people really tapping into their power. Seeing what's happening with companies pulling apart from the NRA. Despite what your POV on gun ownership is, it's interesting to see what's happening.
What advice would you give to this audience who's seeing the nation and who wants to be part of change and lifting up their voice regardless of their position on any of the issues?
I did the Women's March because I was pissed off about the state of our country and I wasn't going to sit on the sidelines and wait for someone else to fix it. I had an opportunity to show up and do something about it and that's what I did. The struggles are always going to be there. There will always be people who see things differently. Some people want to go left and others want to go right. As we progress and break down barriers, people start to see things differently. I think about the people who fought so you and I can be in this room… the people in civil rights who fought just so I could vote -- if they said, "Oh well, I'm not going to do that because it requires sacrifice," we wouldn't be where we are. Those are the people we should aspire to be. We can be them. We don't have to wait for the next figure. We should just be and embody those characteristics.
It's just about starting, not waiting or feeling like your voice doesn't matter -- because we know it does. Don't think someone else is going to fix it. I often say, especially to young people, stop waiting for the next Dr. King or Gloria Steinem. That person only existed once. Be your own savior. Don't wait for someone else to fix the problems you see. Use your voice. We all have a role and an opportunity to be our own change agent.