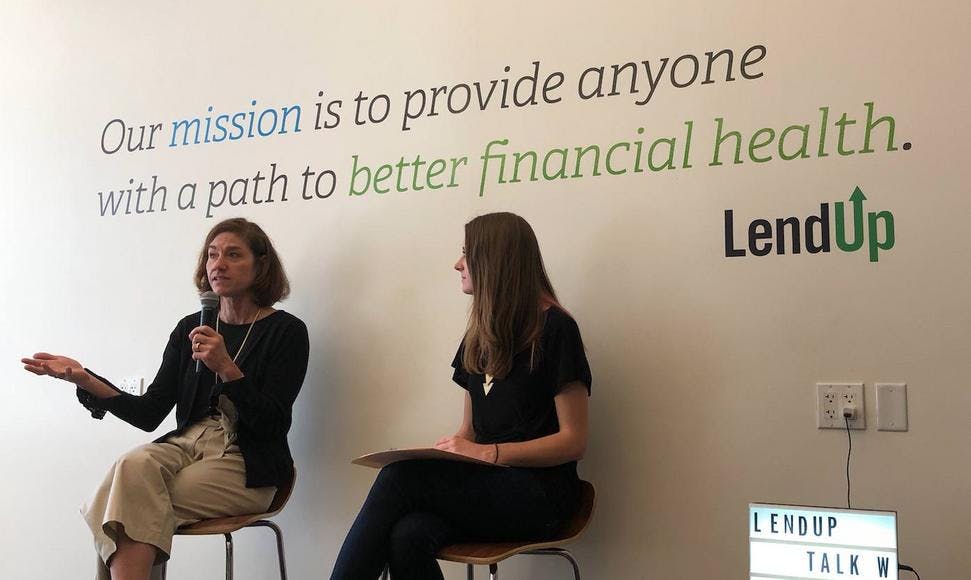 Earlier this year, we invited Mary Jo Cook, President and CEO of Pacific Community Ventures (PCV), to the office to learn more about PCV and the Community Development Financial Institution (CDFI) network in general. PCV is a Bay Area nonprofit whose mission is to invest in small businesses, create good jobs for working people, and make markets work for social good.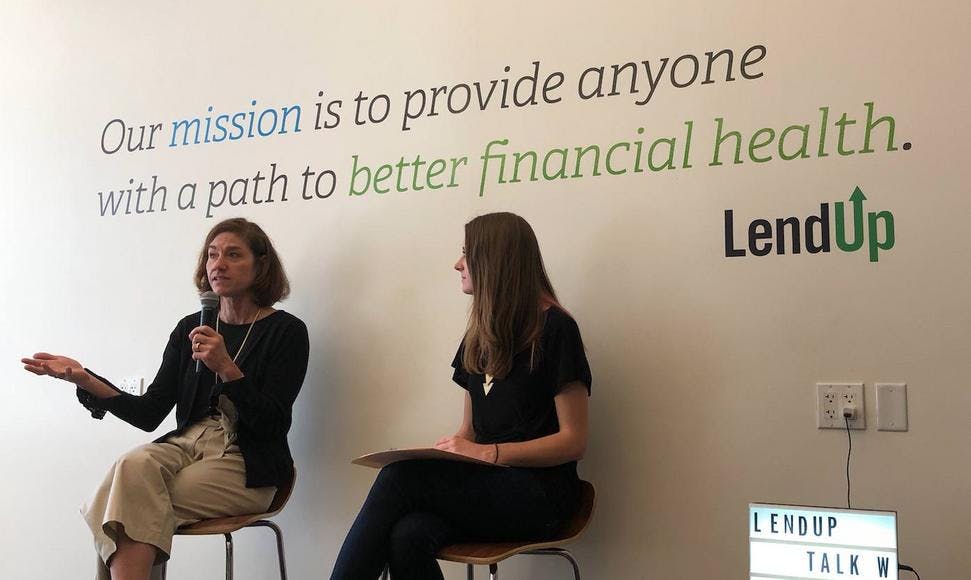 Pacific Community Ventures is a pretty unique CDFI. For those unfamiliar, could you provide a little background on the CDFIs in general, and on PCV specifically?
Community Development Financial Institutions (CDFIs) are organizations that formed about 25 years ago when President Clinton created the Community Development and Regulatory Improvement Act, which created funding for CDFIs, promoting economic revitalization and community development. CDFIs work in all sorts of ways -- affordable housing, small business lending, community projects like hospitals -- but the common thread is they're providing capital to people or projects who can't get it through traditional bank lending. They also provide the initial capital, which is considered the riskiest, for larger projects, which then allows other investments to come in.
As a CDFI, Pacific Community Ventures is focused on:
Small business lending and advising: Providing small business owners, particularly women, minority, and those located in low-income communities, with the resources they need to grow and create good local jobs. Small businesses are a huge engine for job creation. Many of these are quality jobs because a small business owner knows their workers and wants to do right by them.
Industry impact measurement and standard setting: Advising much larger impact investors to help them think about how to define, measure and communicate the impact they want to have. PCV is not a huge organization, so the impact we have on our own is relatively small, but we can provide guidance to much larger organizations, and whole industries, to increase impact. For example, foundations are required to give away 5% of their endowments as grants, but what do they do with that endowment to earn the 5%? How do you invest endowments to generate social impact that aligns with your mission, in addition to financial returns?
Research: Conducting research that helps build the impact investing space and supports small businesses. One focus we have is on higher-quality jobs. Unemployment is not the issue in America right now, quality employment is the issue. Employees suffer from unpredictable scheduling, lack of benefits, and lack of ability to accumulate wealth. A fluctuating income can send you in a downward spiral just because you get a flat tire without a cushion to pay for it. We're working to define quality jobs -- what is a quality job, how can you measure it, and how can you use impact investment to help create more quality jobs?
Share a few insights about how you plan to help spread the quality job mindset to business owners at scale.
In 2016, we published a study called, "Moving Beyond Job Creation" with the purpose of defining a quality job. Through this exercise, we identified five buckets of attributes:
Living wages
Basic benefits
Wealth building opportunities, which can be as simple as offering direct deposit or financial education
Skills building opportunities, both within the business or elsewhere
Fair & engaging workplace, which is a catch-all that covers worker voice, non-discrimination and predictable scheduling
We took this research and considered how to apply it at the small business level. To complement this research, we're developing and testing a Quality Jobs Toolkit called Good Jobs, Good Business to help guide small business employers. In addition, we have a platform that allows any small business (not just PCV's clients) to access free business advising and mentorship. The platform welcomes volunteers to donate their time to helping small business owners improve in areas such as finance, marketing, operations, sales, IT, HR, and more. Sign up to be an advisor and PCV will match you with a small business owner who could benefit from your area of expertise.
What's one of your favorite stories of a small business PCV helped grow and expand?
One is called Tadu Ethiopian Kitchen, a restaurant and caterer with two locations in San Francisco. The founders, a husband and wife, came from Ethiopia with a hospitality background. The husband was driving for a ride share service and passengers would ask him where to get good Ethiopian food. He would respond, "You have to go to Oakland to get it," and realized there was an opportunity here. They opened a small spot in the Tenderloin, eventually wanting to expand, but they couldn't get a loan. We were able to make them a loan for $200,000 to open a second spot in Mission Bay. This story speaks to one of the biggest challenges in our market, which is reaching small businesses and making them aware of alternative financing that does not depend on years of business and top tier credit. This anecdote brings to life some of the work we do and our challenges.
So how do you get past this challenge and reach other small businesses?
Referrals and word of mouth have been our primary channels. Recently I was at a Warriors watch party and visited a nearby denim store, chatting with the owner. She mentioned the need to relocate. I mentioned PCV and, a few days later, she called. We get a number of businesses from free online search, and we're testing direct mail for the first time. Finally, banks are an important source of referrals -- when they can't say yes, they'll refer applicants to us. There are a couple platforms -- MyWaytoCredit.com and Connect2Capital.com -- that match applicants with CDFIs who can serve them. These are more efficient ways to make people aware of these opportunities. But the downside to these sites is they require technical proficiency. You can't visit a website if you aren't online.
Prior to serving as CEO at PCV, you were Chief Impact Officer at Fair Trade USA. Talk about that experience and how you leverage and apply it to your work at PCV?
FairTrade was about ensuring farmers and workers get enough value from the supply chain, and to do this, we worked with a number of stakeholders:
Businesses. Those who source products want to minimize their reputational risk by ensuring fair labor in their supply chain. They also want to have supply assurance. For example, in the cocoa industry, wages are so poor that people can't make enough to raise families, much less tend for and harvest cocoa trees, so they left their jobs. This caused a labor shortage in the industry, which, in turn caused cocoa shortages. The industry realized that better fair trade practices are the key to a sustainable cocoa source.
Consumers. Many want to engage with brands that are ethical and have purpose, creating social and/or environmental sustainability.
Farmers and community members. They help set production standards and define the benefits and impacts of meeting those standards. Fair Trade products have a community development premium, which means $X cents per pound of commodity will go back into community development. The workers that produce the commodity get to vote on how to invest the community development funds -- they could go to a school, a coffee machine for processing facility efficiency, and beyond.
The common thread between Fair Trade USA and PCV is the mission to improve worker livelihoods. At Fair Trade USA, it's the global farm and factory workers. At PCV, it's the small business employees and owners. The other common thread is thinking of businesses as partners -- it is us and them, not us versus them. The last piece is thinking about how to demonstrate impact. We look at impact through a few lenses:
Small business success -- their revenue, increasing profitability, and the ability to repay the loan and stay in business
Worker success -- jobs created and maintained, quality of jobs
Demographics -- ethnicity, gender, and sheet numbers of the people we're reaching
What is your best piece of financial advice?
Set aside money for savings, put the maximum amount possible in your 401k. Even in a tight financial situation, carve some money aside for the future. Many of us are taught to save, spend and donate when we're young. Try to adopt that mindset from an early age, even if you have little.