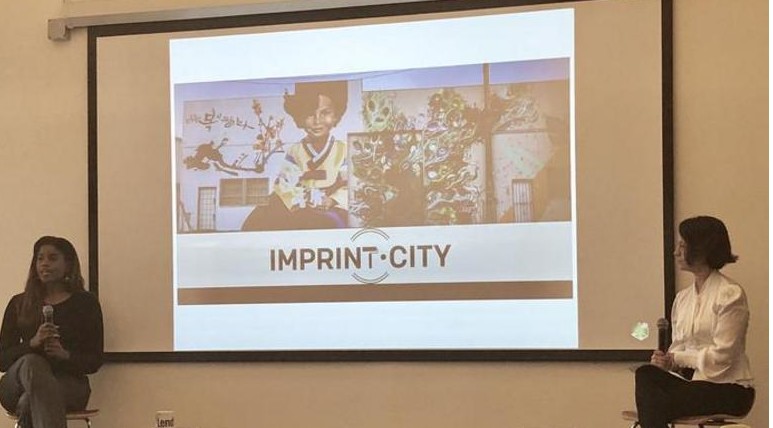 Tyra Fennell is founding director of Imprint.City, an organization seeking to activate industrial, underutilized spaces with art projects, encouraging community and economic development. Imprint.City hosts several free events in the Bayview Hunters Point neighborhood throughout the year. Check out the organization's upcoming Southside Music Festival, showcasing local musicians such as hip hop artists Zion-I and local businesses, on Saturday, May 19th from 12-7pm.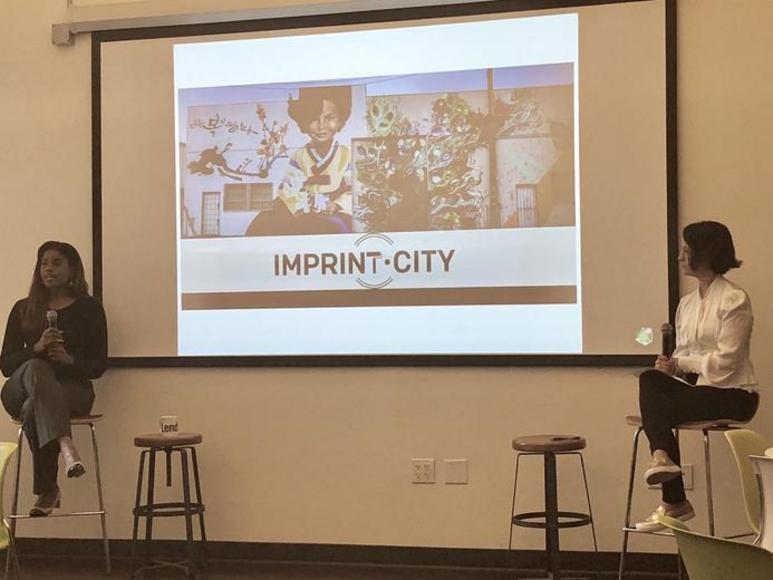 Talk to us about how you got started with Imprint.City. Imprint.City was inspired by the combination of my previous work experiences. Prior to Imprint City, I was working for the San Francisco Arts Commission, a government agency. Before that I worked in London as a songwriter and entrepreneur for most of my career. After spending years in London, I decided to transition back to the States to focus on arts education policy, and I landed at the San Francisco Arts Commission. It was a solid government job with good benefits, but still a bureaucracy. I was eager to make an impact and wake up every morning inspired, creating relevant, community arts programs.
I had the idea of the Bayview neighborhood becoming an African American Cultural District and shared that vision with entrepreneur Andrew Casteel who owns Laughing Monk Brewing in Bayview. Andrew supported and encouraged me to start Imprint City. I was nervous – I didn't have the expertise or the funds to launch a nonprofit, so he helped me navigate the organization's beginning stages. It was a tough decision – should I jump off a cliff and grow wings on the way down, or should I stay neutral and safe in my government job? I decided to go for it, and Imprint.City was born.
Tell us more about your career as an artist. I've been a musician since age six, when I started learning to play the cello with the DC Youth Orchestra. I continued to study music throughout high school and college. After graduating, I took a position at Columbia Records and performed in New York jazz venues. I quickly grew bored of the traditional jazz scene because I always preferred more aggressive music. I was introduced to a genre called drum and bass by British producer, Adam F and I loved it. I quickly learned that even though I loved drum and bass, there was no market for it in the U.S. so I decided to make my first trip to London. No one in my family had ever traveled outside the United States before, but after exploring the music scene there, I decided to move.
In London, I worked as a singer/songwriter and performed at festivals such as the Big Chill and the BBC's Winter Music Conference in Miami. Eventually I wrote and did vocals for a few songs that really blew up – one of the songs was placed in a UK commercial, leading to royalty checks. I saved those checks, which provided a "safety net" for a lot of the risks I would take in my career. I had that as a cushion as well as family support. It is important for other entrepreneurs to hear this because if you do not have that backing, it is more difficult to take risks; most entrepreneurs have capital somewhere helping them start. You cannot build something from nothing.
It's not an easy transition going from the comfort and stability of a government job to becoming an entrepreneur. When was your "aha moment" for Imprint.City? My work style was not a fit for the San Francisco Arts Commission, but my tenacity and prior experience was more of a fit in the private sector. I am happy to have had and maintained a great relationship with the San Francisco Arts Commission, who saw my potential and encouraged me to start a business for years, but I was always hesitant because I was afraid – after all, San Francisco is expensive.
Working at a nonprofit – sometimes being cash-strapped – how do you get through those tough times? First, I buy all my clothes second hand. I'm frugal, and I have low overhead because I'm very efficient with money. I was a performing artist so I have mastered the art of "faking it until I make it." When you become an entrepreneur, you may have to do these things to cut costs and reduce your overhead.
The idea of gentrification in San Francisco has a negative connotation, and Bayview has experienced some of this. How do you address these concerns when they arise? I get these concerns all the time. The Bayview is going through a difficult time and many long-term community members know they are being pushed out and have been fighting this for years. As a newcomer, I needed to be sensitive and empathetic to that. I live in Bayview and am involved with the community by attending and hosting events and by simply building friendships. You must show real respect and love for the community and invite them to walk alongside you. It takes work and skill, but it is the only way to do it.
How do you engage the small businesses in Bayview? Imprint.City does art activation, but also works to encourage economic development, not just art for art's sake. When I invite vendors to participate in a festival, I want the data on the amount of money they make and their foot traffic, because that matters most. We're encouraging economic development in the neighborhood to support legacy businesses and combat attrition. When we embark on a project, we identify emerging spaces in the Bayview with low foot traffic and transform them from industrial, blighted, vandalized spaces into pieces of public art that people visit the area specifically to see.
Most artists I work with are local – just a few are national. I partner with local youth organizations in the area to employ youth for projects, because employment is a big part of economic development. They work during Imprint.City's festivals; they also take six weeks of spray art class so they can help the artists paint commissioned murals in the neighborhood. They're paid to work, but they also get the opportunity to help create art that will be there for years to come.
What is one of your proudest moments throughout this journey? I am proud that I can showcase "black excellence" via artists in the community I work in and call home. We are giving the youth something to look up to and helping capture the historic African American community in the Bayview through our programming.