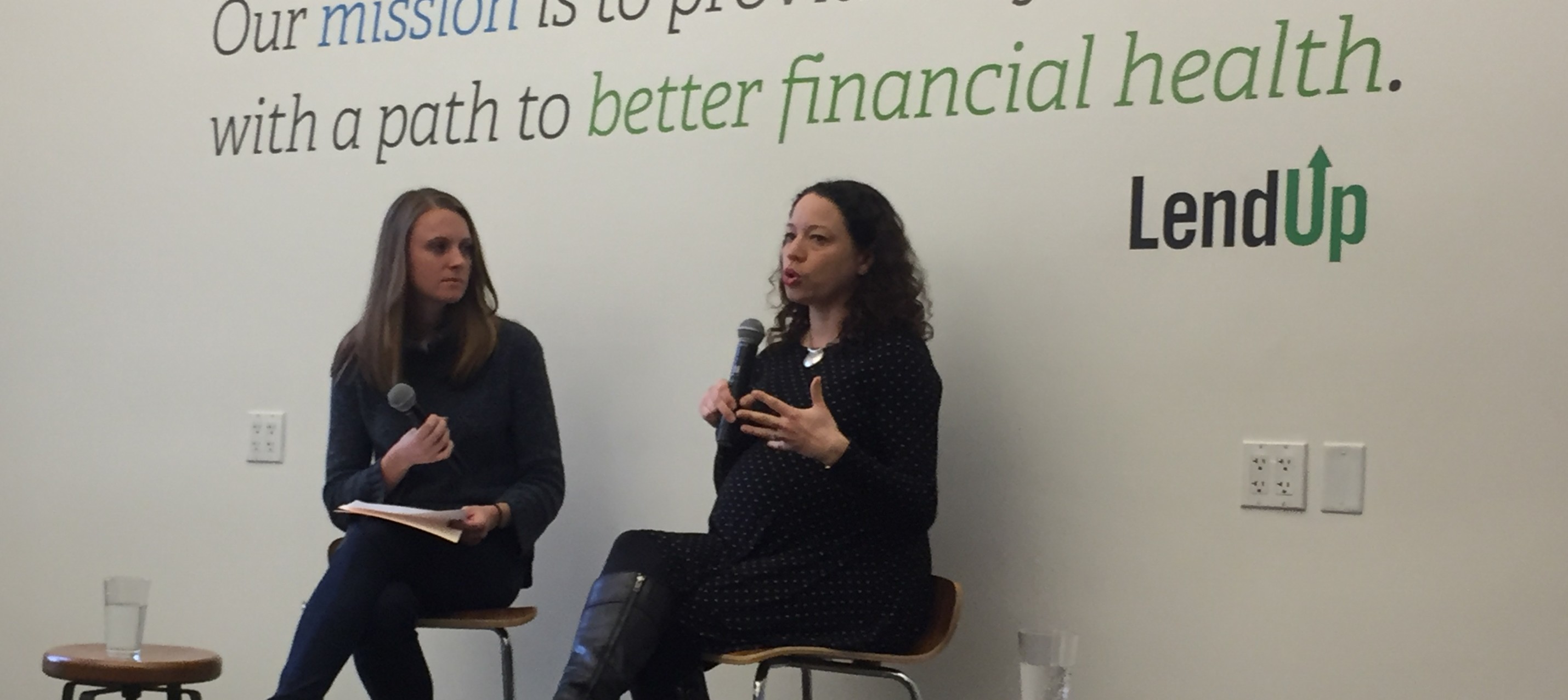 We recently announced a partnership with EARN, a national, award-winning nonprofit that helps empower low-income Americans to take charge of their financial lives by saving and investing in their futures. EARN's mission hits close to home for LendUp, where we build financial products and offer free financial education, aimed at providing anyone with a path to better financial health. Through a pilot program and research study, LendUp will introduce customers to EARN's SaverLife program, with the goal of increasing short-term savings and exploring the relationship between debt, savings, and behavioral nudges.
We recently sat down with Leigh Phillips, EARN's CEO, for a LendUp Talk, to chat about the benefits of asset building, saving and more.
Leigh built her career in part around asset-building, or the idea that income alone is not what helps people move out of poverty. It is the ability to invest in yourself and build assets such as a home, an education, or, for some, citizenship, that helps people earn more and own more.
The ability to build assets paves the way out of poverty for many people. Yet there are certain financial activities that create more opportunity than others.
For example, when it comes to ownership of property or houses, or contributions to 401(k)s, significant gaps between owners and non-owners, contributors and non-contributors, are perpetuated by tax codes. These tax codes help middle- and upper-income people accumulate more wealth by providing deductions for owning a home or for contributions to a 401K account. Conversely, these tax codes aren't helping the poor, who often aren't able to own a home or contribute to their retirement, let alone benefit from tax breaks for doing so.
EARN's SaverLife program helps bridge the gap for lower income communities, for whom it is more difficult to accumulate assets. Asset building begins with saving, and SaverLife encourages and incentivizes savers to save money by providing a financial bonus for savers who consistently save at least $20 per month over the course of six months. The program implements other timely incentives, called behavioral nudges, to encourage its savers to save more. For example, in addition to incentives for monthly savings, SaverLife "nudges" savers to put aside some of their tax refund for savings by offering prizes for those who deposit at least $50 from their tax return into their bank account. Savers who do so are automatically entered in a weekly drawing to win $100. For some working class families, a tax refund is the biggest paycheck they will see all year, so it represents a significant opportunity to contribute to their savings.
In Leigh's words, "the experience of saving money is transformative in how you feel about your future. People who save regularly have a stronger forward thinking orientation, which makes them feel more confident in all areas of their lives."
SaverLife is not the first program Leigh helped design to empower individuals through savings. Before working at EARN, Leigh was the founding Director of the San Francisco Office of Financial Empowerment (SF OFDE). The SF OFE pioneered several first-of-its-kind programs in San Francisco, including Kindergarten to College which provides universal savings accounts to every incoming kindergarten student enrolled in public schools. Even if the savings accounts have $500 or less, Leigh explained, children are four to seven times more likely to attempt college, because the idea that you're being invested in inspires your future. So, with relatively small amounts of money, Leigh says we can make significant gains.
With all the discussion around the importance of savings, we asked Leigh what her savers are saving for. The answer? Anything they want. Not everyone wants to own a home, or a business, or a car, but everyone needs to save. The number one thing EARN's savers are saving is for their lives – so their child can to go prom, so they can buy their kids' graduation photos, or for some, so they never have to be homeless again.
We asked Leigh for her best parting piece of financial advice. Unsurprisingly, she had a great tip around saving. "Align your savings with your own goals. It is about what you value personally – save to go on vacation with your kids, save for peace of mind. There are all sorts of things that motivate people. Don't let others tell you what you 'should' save for – our SaverLife financial coach tells people, 'Don't should on me!' The idea is just to get going on saving, whether you're saving for a flat screen TV or a down payment. There's no judgment, save for whatever works for you."