A cadre of LendUppers recently visited San Francisco's Nasdaq Entrepreneurial Center to see Dan Ariely speak. In fact, we were likely the most represented company there, based on some highly non-technical math.
For the uninitiated, Dan Ariely is professor of Psychology and Behavioral Economics at Duke University, best known for his books, such as Predictably Irrational: The Hidden Forces That Shape Our Decisions , The (Honest) Truth About Dishonesty: How We Lie to Everyone - Especially Ourselves, and most recently, Payoff: The Hidden Logic That Shapes Our Motivations and TED Talks that focus on people's attitudes towards money: how they're motivated by it, or not, and the unintended consequences when money is used as a motivator.
As a mission-driven online lender for the underbanked, we're a big fan of Ariely and were eager to learn from him and see if we could apply some of lessons to our work at LendUp.
Cash, Pizza, or Texts from the Boss? Throughout the evening Ariely laid out different studies showing how individuals respond to monetary incentives. One that especially resonated for us was about a study done at an Intel semiconductor factory in Israel. They wanted to measure the impact of incentives on employee production, which in this case was easy to measure because the employees are solely tasked with assembling computer chips.
Employees would show up to work and see one of the following incentives for being a top performer that day in their inbox: * A $30 cash bonus * The company would buy their family pizza * The CEO would send them a text message saying "Good job!"
They were then compared to a control group that received no email with an incentive. How did productivity look that day?
Maybe those results were expected. But even more interesting is how productivity looked over the course of the full week; productivity for the cash group ended down over six percent. Pizza and text ended the week just slightly ahead of the control.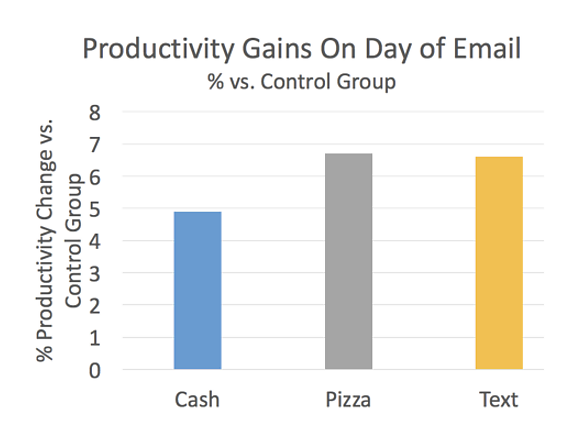 Ariely's major theme on the night, which this story illustrates, is that money is a less effective motivator than giving someone a sense of purpose or a sense that someone is doing good work, and that rewarding people with money alone has a tendency to strip away meaning and, ultimately, productivity.
Applying these Lessons. We can relate. We know people come to LendUp for loans and credit cards and that we provide services that help people reach short-term and long-term financial goals. But we also know that money is a vehicle that helps people reach other goals: that might be the pride in the ability to provide a good home, being able to pay for a child's extracurricular activities, or even keeping the lights on.
A large part of being financially healthy means not continuously worrying about having the means to provide basic necessities. That's a part of what we're trying to solve.
Needless to say, we were inspired, motivated and learned a lot that night. While the Intel story predominantly addresses motivating employees, many of Ariely's concepts can be applied to our relationships with our customers. It helped reinforce that what we're already doing -- like customer "side by sides", where LendUp employees sit with customer service representatives to listen in on customer calls, and ongoing borrower research that measures our social impact -- is meaningful work and critical to our mission of being an empathic, socially-responsible lender.
The value we're adding isn't just access to money and credit in the short-term or improved credit scores in the longer-term, it is providing people with dignity, confidence in the days ahead, and a sense of optimism about their futures. The more we can understand our customers' ultimate goals, the better we'll be at making products that work for our customers, and the more our products work for our customers the more successful we will be as a company.