Highlights:
LendUp customers are improving their credit scores more than a control group
The longer someone has been with LendUp, the more likely their credit score has increased
This matters because individuals with subprime credit scores have limited access to new credit-building opportunities
Helping Borrowers: Why Improving Credit Scores Matters
LendUp's mission is to provide anyone with a path to better financial health, and one way we hope to achieve that mission is by giving customers access to products that can help them increase their credit scores.
According to the Center for Financial Services Innovation (CFSI), a leader in defining financial health, having "a prime credit score" is one of the eight major indicators of financial health [1]. A prime score can not only determine eligibility for a mortgage, an auto loan or any other type of credit product, it can greatly influence a borrower's interest rate. According to Credit Karma, "if you have a credit score of 650 and get a 30-year, $400,000 mortgage, you could pay over $70,000 more in interest than someone with a 750 credit score and the same mortgage." [2]
A majority of people who turn to LendUp have subprime, or deep subprime, credit scores [3], as evidenced by our VantageScore distribution graph. Typically, this isn't because they haven't had access to credit (known as "no-file" or "thin file", where major credit bureaus don't have enough data on an individual to establish a score) — the more likely scenario we see with our customers is that they have credit that's severely damaged from a history of missed payments, heavy utilization of credit cards and/or previous bankruptcies. Because our customers overwhelmingly have thick, damaged credit files, rebuilding credit takes time and requires a commitment to utilizing our products responsibly.

People with deep subprime credit scores have very limited options when seeking credit. To meet day-to-day financial obligations, these consumers often have to rely on payday lenders, pawn shops or auto-title lenders that don't traditionally check credit reports when making lending decisions. Unfortunately, these lenders also don't report back to credit bureaus, meaning individuals who successfully repay these loans don't receive the long-term benefits associated with improved credit reports.
We believe that by offering our customers products designed to promote successful repayment, reporting that repayment back to credit bureaus, and encouraging our customers to gain an understanding of credit fundamentals through our education courses, we can help them move the needle on their credit scores.
Results of Helping Borrowers Improve Credit Score
Earlier this year, we worked with FactorTrust and TransUnion to understand the impact LendUp had on its customers from December 2014 to December 2015. First, FactorTrust provided us with a randomized sample of individuals that look similar to LendUp customers in terms of geography, credit profile, and a recent history of taking payday loans, but have never applied to LendUp. Then, TransUnion gave us depersonalized credit data, with no Personally Identifiable Information, on both the random sample and our actual customer base.
It is difficult to isolate the impact of any single loan on a consumer's credit score, but patterns emerge when reviewing large volumes of data. For LendUp loans, the most obvious pattern: people with deep subprime credit scores had a higher likelihood of increased scores the longer they've been LendUp customers.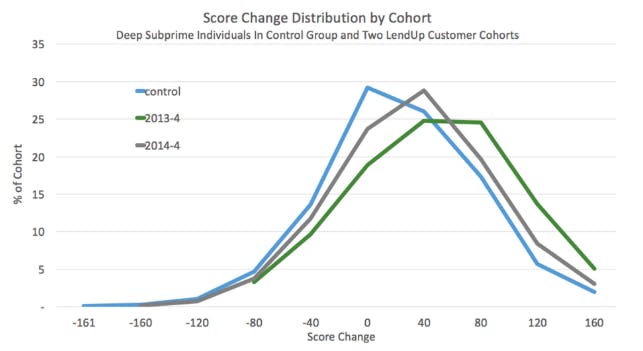 Everyone on this chart began 2015 with a score below 500 (deep subprime). While individuals in the control group had a 64% chance of increasing their score by 20 points in that year, individuals who'd been LendUp customers for at least one year prior to 2015 had a 74% likelihood of increasing their score by 20 points. At the same time, LendUp customers were less likely to see their scores decrease.

If you include people who began the year with scores from 500 to 600, the results are less pronounced, but the trends remain the same.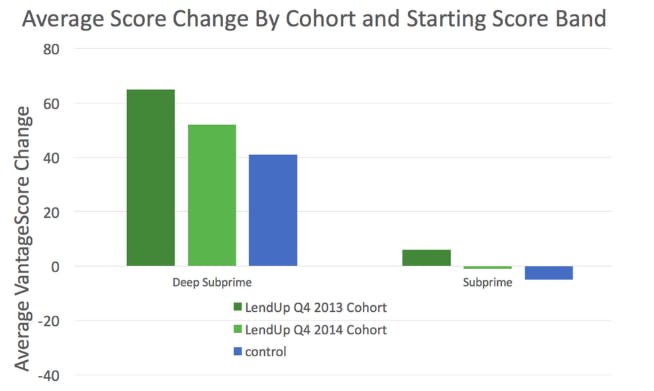 The above chart shows the average score change during 2015 by cohort, broken out by what VantageScore range people began the year in. In each instance, LendUp customers' scores outperformed their peers; the impact was less pronounced for customers with relatively higher starting scores and those who'd only been LendUp customers for a short time.
We're proud of how our customers are working to improve their credit scores, but we know there is a huge opportunity to do more. We're collaborating with customers, through in-person and over-the-phone conversations and surveys, to better understand their needs, enabling us to make product tweaks that improve their chances at success. We're experimenting with in-line education that will help customers make informed decisions while they're using LendUp, and we're partnering with services like Balance and SpringFour that offer one-on-one credit counselling and that help customers locate savings in their day to day lives. All of these activities should go a long way in helping LendUp customers increase their credit scores and continue on the path towards better financial health.
[1] http://www.cfsinnovation.com/Document-Library/Eight-Ways-to-Measure-Financial-Health.
[2] https://www.creditkarma.com/article/why-your-credit-score-matters.
[3] We define deep subprime as VantageScores below 500 and subprime as scores from 500-600. We are using only VantageScore 3.0 scores throughout this piece.